Project Demonstrates Ammonia Cracking at Sea to Power Hydrogen Fuel Cell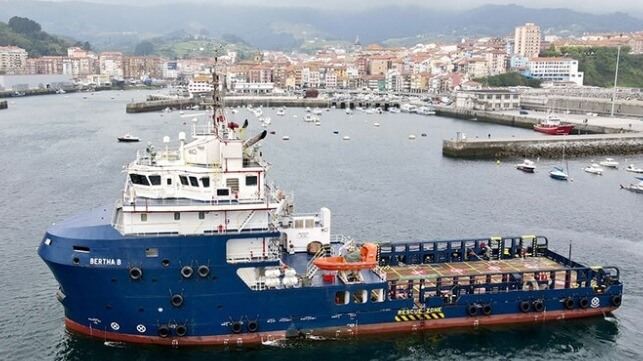 A Spanish startup company, H2SITE, has successfully demonstrated aboard an offshore supply ship an ammonia cracker system that provides hydrogen for fuel cell application. The commissioning is part of an ongoing project in the Basque region of Spain seeking to research less mature technologies that can be used to create sustainable vessels based fundamentally on hydrogen technology.
Ammonia cracking is seen as a promising technology as ammonia is an effective carrier for hydrogen which can then be used for onboard power generation with fuel cell technology. Project organizers point out that the ammonia could be used directly in the engines or through their project they look to convert it into hydrogen through a cracking solution. Before the hydrogen can be used, it has to be released from the ammonia and then be purified to remove traces of ammonia.
As part of the demonstration project, an integrated membrane reactor was installed and operated on board the Bertha B, a supply ship sailing in the Bay of Biscay. Built in 2016, the 2,100 gross ton Bertha B has been operating from Bermeo, Spain since 2022 carrying out supply and response duties at the La Gaviota gas storage platform located about five miles of the northern Spanish coast for Enagás. The vessel is owned by Erzoff-Shore, a JV between Zumaia Offshore and Erhardt Offshore.
H2SITE reports that its membrane reactors make sure all the ammonia is transformed while delivering high-purity hydrogen to the fuel cell in a single process step. During navigation, as part of the H2OCEAN project, the system generated high-purity hydrogen coupled to a PEM fuel cell. H2SITE's cracker successfully powered the ship's auxiliary services.
The company highlights that the technology can be efficient where space is limited, such as onboard a vessel. After demonstrating its integrated membrane reactor technology onboard and for inland applications, H2SITE continues to scale up its technology proving higher efficiency levels.
H2SITE was launched in 2020 and has joined in with the H2OCEAN project which is funded by the Basque Government (HAZITEK program) and the European Regional Development Fund (ERDF). Spanish shipyard Astilleros de Murueta is leading the project which also includes Wartsila among the participants. Among the focus of the project is developing systems and designs to fit within the space limitations of ships while meeting the challenge of providing green energy sources.