Product Tanker Operator Fined $2M for MARPOL Violations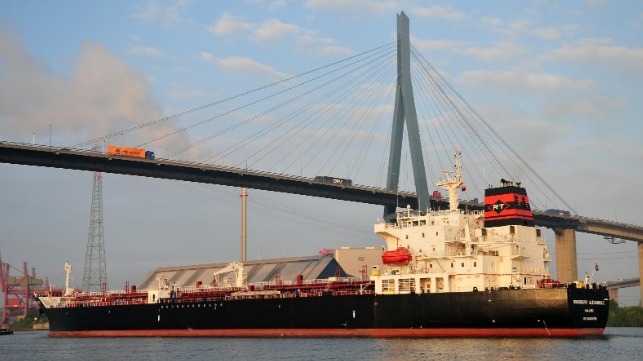 A U.S. court has sentenced a Cypriot ship management company to a $2 million fine and four years of probation for MARPOL violations, the latest in a long-running series of successful federal prosecutions for oil pollution charges.
In a plea agreement, Interorient Marine Services of Limassol, Cyprus admitted that oil cargo residues and oily bilge water were illegally dumped from the product tanker Ridgebury Alexandra Z into the ocean without being processed through an oil-water separator. The company pleaded guilty to one count of falsifying entries in the ship's Oil Record Book in connection with the discharge.
"By illegally dumping oily waste into the ocean, Interorient intentionally violated federal law that protects valuable marine resources and wildlife," said Department of Justice Assistant Attorney General Jeffrey Bossert Clark. "This conviction shows that corporations and individuals that willfully flout our nation's environmental laws will be held accountable by criminal prosecution."
The method the Alexandra's crew used to circumvent their ship's pollution control equipment was more sophisticated than the common "magic pipe" arrangement, in which a hose setup is used to pump oily waste directly over the side. Instead, senior officers aboard the vessel engineered a method to flush clean fresh water through the sensors used to detect oil-in-water concentrations, tricking the ship's pollution prevention system into recording a much lower oil content than what was actually being discharged. They then logged a "properly treated" discharge of 90,000 gallons in the Oil Record Book.
After Coast Guard inspectors discovered this violation and began an investigation with federal prosecutors, Interorient pleaded guilty to a felony violation of the Act to Prevent Pollution from Ships (MARPOL) for failing to accurately maintain the Ridgebury Alexandra Z's Oil Record Book. Under the terms of the plea agreement, the company will pay a total fine of $2 million and serve a four-year term of probation, during which all of the firm's vessels will be required to implement an environmental compliance plan if calling in U.S. ports.
According to a tally compiled by the Wall Street Journal, the U.S. Justice Department has convicted 140 shipping firms of MARPOL violations and collected $470 million in fines since enforcement began in the 1990s. Nearly ten percent of the total came from one penalty: the $40 million fine for Princess Cruises related to the discharge of oily bilge water from five cruise ships in 2013. Crewmember whistleblowers have contributed to many of these investigations, and some have been rewarded financially for their assistance.
The master of the Alexandra, Vjaceslavs Birzakovs, faces six federal charges in connection with his involvement in the case. Prosecutors allege that Birzakovs directed circumvention of the vessel's pollution prevention equipment, falsified records, obstructed justice, made false statements, and conspired with other crewmembers to falsify the vessel's Oil Record Book and to obstruct the U.S. Coast Guard's enforcement of the law.