Posidonia Kicks Off with Prime Minister's Address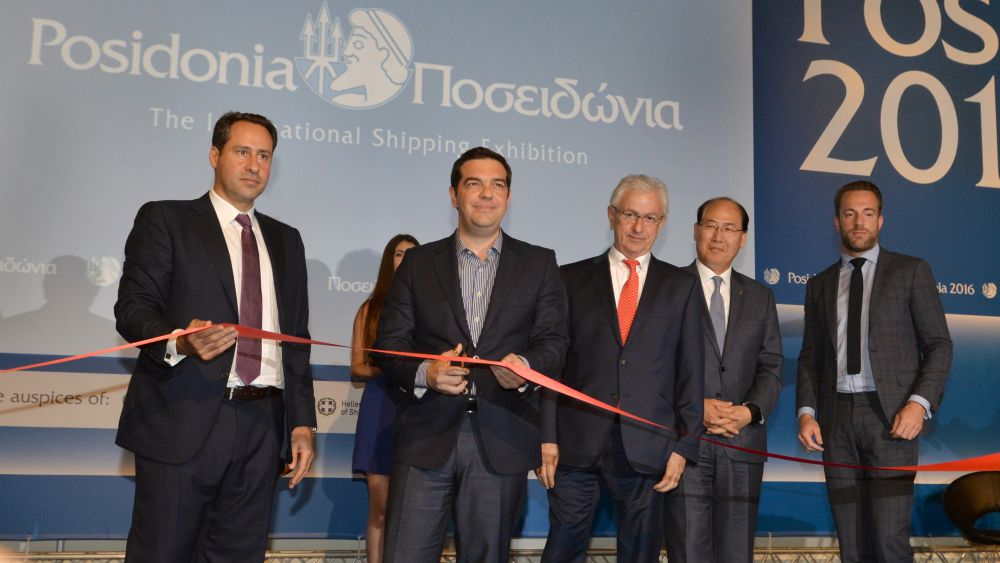 Posidonia 2016 kicked off Monday evening with opening remarks from the Prime Minister of Greece, Alexis Tsipras, and many other high-level officials from around the world.
Tsipras emphasized the importance of shipping to the Greek economy, and pointed to the potential for growth given the nation's existing infrastructure and strategic location. He also admitted that Greece's economy has struggled in recent years, and even said that the Greek state could have something to learn from Greek shipowners, who have retained their place as the world's leading owners by value. Greece has 1,300 shipping firms, 200,000 maritime-related jobs and its shipping sector contributes seven percent of the nation's GDP.
Greek minister of shipping Theodore Dritsas acknowledged that the past year has not been kind to the industry, with challenges including "excess tonnage . . . lack of funding from bank institutions, sharp decline in vessel values, uncertainty in oil prices and acute competition," especially in dry bulk. (Greece is the number two owner of bulkers worldwide.) Like Tsipras, though, Dritsas noted how well Greek owners had performed, even in a down market.
IMO Secretary General Kitack Lim was in attendance, and Theodore Veniamis, President of the Union of Greek Shipowners, took the opportunity to call for the retention of all international regulatory authority over shipping with the IMO – in his opinion, the "only appropriate legislative body for shipping."
"I would like to stress that the priority for European legislators should be to form a shipping policy focused on maintaining the competitiveness of [EC] shipping," he said.
Veniamis mentioned climate change in his statement; the EU intends to require larger vessels calling at European ports to begin reporting their carbon dioxide emissions starting in 2018. It has expressed a preference for IMO action, but it also has set out a possible strategy of three steps towards European regulation: monitoring and reporting; GHG reduction targets; and market-based measures to incentivize emissions cuts, with a target of reducing CO2 output from the sector by half by midcentury.
Veniamis said that IMO would be able to balance shipping's needs better than the any other body. "Shipping as an international activity, fully exposed to international competition, requires a uniform enforceable legislative framework. The IMO has addressed successfully challenges over the years and has adopted international conventions which achieve the required balance between its Member States," he said.