Posidonia Expands Exhibition Space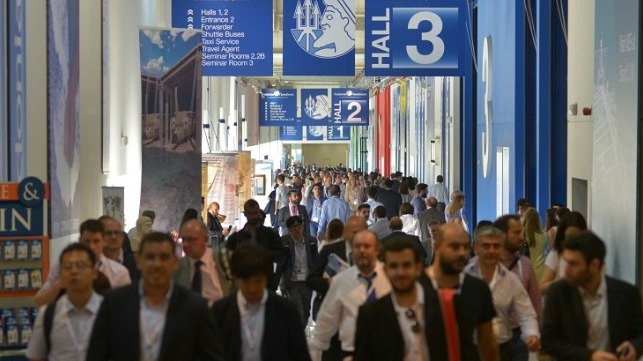 Conference and exhibitor space is filling up fast for what organizers say promises to be their largest maritime trade show to date.
Space bookings for Posidonia 2018 are already up by 10 percent compared to the same time two years ago, and over 80 percent of the exhibition floor area is already committed. The organisers have added another 1,000 square meters of exhibition space to meet demand, and the event will now be held across an exhibitor floor space spanning 40,000 square meters (430,000 square feet).
From June 4-8, organisers expect to welcome over 22,000 shipping executives and government delegation members to the Athens Metropolitan Expo for the event, traditionally regarded as the playground of the world renowned Greek shipping community.
Exhibitors Gear Up
Posidonia is anticipated to generate new business for exhibitors and offer visitors direct access to the latest technology and the entire spectrum of maritime services and products available on the global maritime market.
Featured will be Saudi Aramco, Saudi Arabia's state oil company, and its partners; Lamprell, the National Shipping Company of Saudi Arabia (Bahri) and Hyundai Heavy Industries. The companies have chosen Posidonia 2018 for the global unveiling of their International Maritime Industries (IMI) joint venture. When the yard is fully operational in 2022, IMI will offer newbuild and maintenance, repair and overhaul of vessels, including VLCCs and offshore rigs. Spread over 11.8 square kilometres (4.5 square miles), IMI will be one of the world's largest full-service maritime facilities.
To date, IMI has committed orders for 20 offshore rigs and 52 VLCCs to be built over the next decade. IMI is also in the process of establishing a supply chain ecosystem adjacent to the yard to drive localization, agility and efficiency.
IMI will be joining over 1,850 companies from a wide range of maritime industry sectors currently preparing and planning their participation.
Greek Spending Spree
"Posidonia's strength is drawn by the collective quality and buying power of its exhibitors, delegates and visitors, debutants or repeaters, who commit funds and resources every two years to be part of a signature industry event that is a true celebration of everything shipping stands for," said Theodore Vokos, Executive Director, Posidonia Exhibitions S.A., the biennial event's organiser.
"A key attraction remains the strong presence of the powerful Greek shipowning community at every Posidonia which is leading global newbuilding activity with 61 Greek companies having ships on order worth an estimated $16 billion," said Vokos.
Over 260 ships built to high specs, with many of them Tier II and Tier III compliant, are on order for Greek interests at the dawn of 2018, 105 of them contracted in 2017.
The spending spree is regulation driven and stems from the recent ratification of the ballast water treatment treaty and type approvals by the U.S. Coast Guard, as well as new regulations regarding SOX and NOX emissions and monitoring, reporting and verification (MRV) requirements, which have speeded up investment in scrubbers, LNG fueled ships and digitalisation of operations.
With Greek interests currently running the most modern fleet globally and operating across the globe, compliance with new environmental regulations is a must for Greek shipowners. Some shipping companies, such as Capital Maritime & Trading, predict that new environmental regulations will make a quarter of today's global fleet obsolete, giving them reason to invest $1,1 billion in upgrading 71 ships and ordering new ones.
This flurry in new building orders and fleet upgrades is drawing the world's shipping community to Posidonia 2018 in bigger numbers than ever before with commitments or expressions of interest surpassing any previously set event record.
Boost to Conference Program
The 2018 Posidonia conference and seminars program will once more include over 30 conferences, product presentations, technical seminars and press conferences.
The conference program will start with the Tradewinds Shipowners Forum which will tackle current issues facing shipping.
A new event will be the Hemexpo powered "Support the Local Maritime Industry Summit" organised by Newsfront – Naftiliaki, to take place under the auspices of the Marine Technical Managers Association, which will give shipping companies the opportunity to familiarize themselves with Hemexpo products and services. The conference will enable attendees to make educated decisions on future investments going forward and will promote the Greek maritime cluster, which is on track to contribute an ever-growing part of the national GDP.
A new feature of the Posidonia Conference and Seminar program will be the 4th Energy & Shipping Seminar, organised by the Institute of Energy for South East Europe, which will provide an in depth analysis of the global oil and gas market outlook and analyse the factors that define the correlation between energy cargoes and shipping.
Organizers
Posidonia is organised under the auspices of the Ministry of Maritime Affairs & Insular Policy, the Union of Greek Shipowners and the Hellenic Chamber of Shipping and with the support of the Municipality of Piraeus and the Greek Shipping Co-operation Committee.