Ports Close as Hurricane Florence Approaches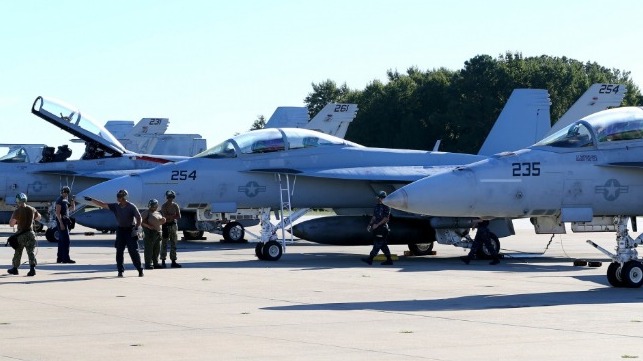 The U.S. Coast Guard Captain of the Port for Hampton Roads, Virginia has suspended port operations and ordered the port's closure in preparation for Hurricane Florence. Hampton Roads is now under Condition Zulu, meaning that gale-force winds are expected within 12 hours.
Wilmington and Morehead City, North Carolina have also set Condition Zulu, and they have closed their gates to truck traffic. The ports will be closed to all shoreside access from Thursday through Friday.
Hurricane Florence from space, GOES / NOAA, September 12
On Wednesday, Florence weakened to a Category 3 storm, but the National Hurricane Center says that it will still be "an extremely dangerous major hurricane" upon its arrival late Thursday. It is expected to slow once it nears the coast, dumping over 5 inches of rain over a broad area and over 10 inches in isolated pockets.
1.7 million people in North Carolina, South Carolina and Virginia are covered by evacuation warnings, and an additional four million live in areas covered by hurricane watches and warnings.
"This is not going to be a glancing blow," said Jeff Byard, an administrator with the Federal Emergency Management Agency's Office of Response and Recovery. "This is going to be a Mike Tyson punch to the Carolina coast."
Storm clouds on the horizon from Frying Pan Tower, 30 nm off the coast of North Carolina
U.S. Navy personnel evacuate
As Hurricane Florence approaches, the U.S. Navy has authorized an emergency evacuation order for active-duty and civilian personnel in Chesapeake Bay and Hampton Roads. The region includes the world's largest naval base, Naval Station Norfolk.
The authorization covers personnel in Hampton Roads and in Virginia Zone A, an evacuation zone covering waterfront areas throughout the Chesapeake Bay and Eastern Shore region.
"The safety of our personnel and their families is my top priority right now," said the commander of Navy Region Mid-Atlantic, Rear Adm. Charles Rock. "Our mission is to support the fleet, fighter and family, and the team at Navy Region Mid-Atlantic has been working around the clock to provide support and information during this very stressful time."
Each parent command will determine which individuals are covered by the evacuation order, and evacuees are to head to a "remote safe haven area" centered on Asheville, North Carolina.
Hotels in Asheville are preparing for an influx of residents from coastal areas as the storm approaches, and vacancies are limited, according to the local Citizen Times. For sailors and family members who can book a room in the designated zone, orders will include reimbursement for lodging, and a per diem will be provided.
For those who need further financial assistance, the Navy-Marine Corps Relief Society is supporting sailors and their families with evacuation loans, with priority for those living in Zone A. Families of sailors who are currently at sea may be eligible even if the active duty member is not present. Thousands of Navy servicemembers are manning the 30 ships that departed Norfolk in advance of the storm, and many left families behind when they set sail.