Ports America Ships Older STS Cranes From Seagirt to Tampa Bay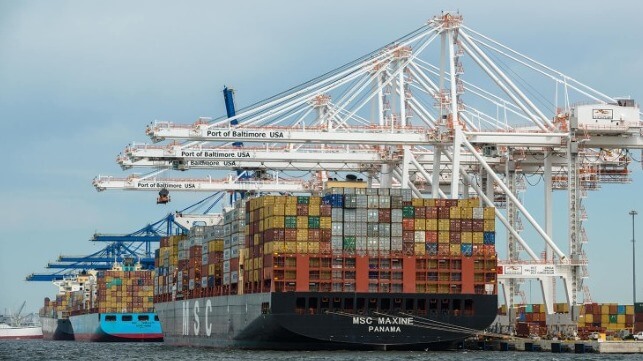 Port operator Ports America has upgraded the container cranes at Baltimore's Seagirt Marine Terminal to handle bigger ships, rendering the port's original STS cranes unneccessary. The three remaining vintage cranes may be outmoded for big-ship operations, but they will not be headed to the scrapyard: instead, they will be transferred to Port Tampa Bay, where Ports America has a terminal operation serving smaller boxships.
The port's four newest cranes, which are fully electric with no diesel emissions, are part of a $166 million investment at Seagirt by Ports America Chesapeake. The mammoth new cranes arrived in a dramatic transit in September 2021, which required bridge closures and a channel shutdown due to the extreme width and height of the cargo. Assembled, they stand 450 feet tall and weigh in at about 1,740 tons. Together with four newer cranes installed in 2016, the new set allows Seagirt to handle two Neo-Panamax boxships at the same time.
Though smaller in stature, Seagirt's original post-Panamax gantry cranes are capable of handling 40 containers an hour, according to Ports America. When they were installed in 1990, they were considered state-of-the-art.
At Tampa, the three used cranes will be a welcome addition. The Ports America container terminal at Tampa Bay currently has two STS cranes capable of handling vessels up to about 9,000-10,000 TEU in size, and Seagirt's original cranes will add extra capacity. They will have more berth length to work on, too: working together with Ports America, Port Tampa Bay has plans to quadruple the size of the terminal's capacity from 40 acres to 160 acres and expand its berth from 3,000 feet to 4,000.
As the older, smaller cranes ship out of Baltimore on Thursday, the Maryland Transportation Authority will temporarily halt all traffic on the Francis Scott Key Bridge and Chesapeake Bay Bridge as the cranes pass underneath. The traffic stoppages should last about half an hour, and will avert any possibility of drivers getting distracted by the view of massive machinery passing underneath.