Port of Seattle Passes One-Millionth-Cruiser Milestone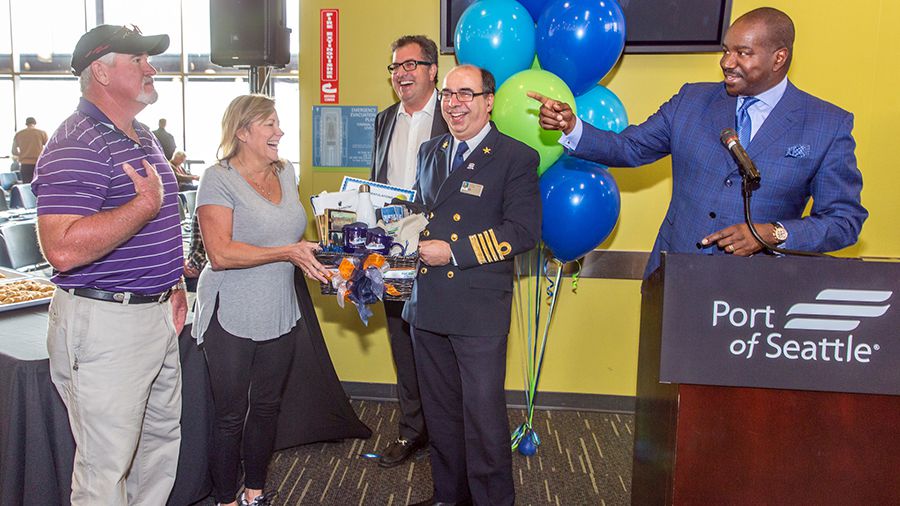 Linda Ellis and Ted Finn from Alexandria, Louisiana booked a cruise on Holland America Line's Eurodam last week, and when they arrived to board, they found themselves at the center of an impromptu party. The couple were selected for the Port of Seattle's first ever one-millionth passenger celebration, and they were greeted at the terminal by Eurodam master Captain Werner Timmers, Port of Seattle Commissioner John Creighton and Holland America Line CEO Orlando Ashford.
"Congratulations to our millionth cruise passenger this season. Passengers like Ted and Linda from Alexandria, Louisiana and points all across our country come here for a unique Pacific Northwest/Alaska experience that drives half a billion dollars in annual business revenue," said Port of Seattle Commissioner John Creighton.
"Congratulations to . . . Linda Ellis and Ted Finn for being selected for the port's one millionth guest celebration on Saturday," said Orlando Ashford, president of Holland America Line. "Holland America Line is thrilled that for more than 30 years we have been a partner with the Port of Seattle in building a robust gateway cruise port and an important contributor to the economic impact in the this region."
The port says that Seattle's cruise terminals are the busiest on the U.S. west coast in terms of passenger volume, and they generate over $500 million in annual business revenue, providing more than 4,000 jobs and $18.9 million in state and local taxes. Each homeported vessel generates an estimaged $2.7 million for the local economy.