Port of San Diego Begins Modernization Project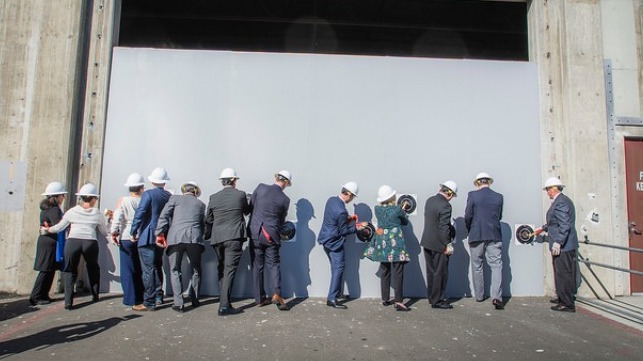 The Port of San Diego has started a $24 million public works project that will modernize its Tenth Avenue Marine Terminal.
The Port of San Diego is the fourth largest port in the state, and the project will allow the Tenth Avenue Marine Terminal to handle up to 4.6 million metric tons of cargo annually. The project will remove two obsolete warehouses and create laydown area for larger project cargo. It will also include new modular office space, utility enclosures and on-dock rail improvements.
The modernization project is the first phase of a larger, market-driven project that supports the Port of San Diego's specialty cargo niche by providing laydown space and flexibility for each cargo type. The long-term redevelopment plan envisions three distinct cargo nodes within the existing footprint of the terminal and is focused on project and break-bulk cargo, refrigerated containers and dry bulk cargo.
The port successfully competed for a $10 million TIGER grant from the U.S. Department of Transportation to help fund the first phase of the modernization. The port will match the grant with a $14 million contribution.
Based on identified cargo volume increases and other triggers, the project will also facilitate implementation of the long-term redevelopment plan that includes innovative technologies to help safeguard the environment around the terminal. Zero and near-zero emission freight equipment will be implemented at the terminal over the next 20 years, and an emission-capturing bonnet system is planned to capture harmful pollutants for vessels that are unable to use shore power while at berth.
Phase I of the modernization project is anticipated to take approximately 13 months to complete. Dick Miller, Inc., of California, was awarded the contract for this phase.