Port of Baltimore Posts its Best Quarter Ever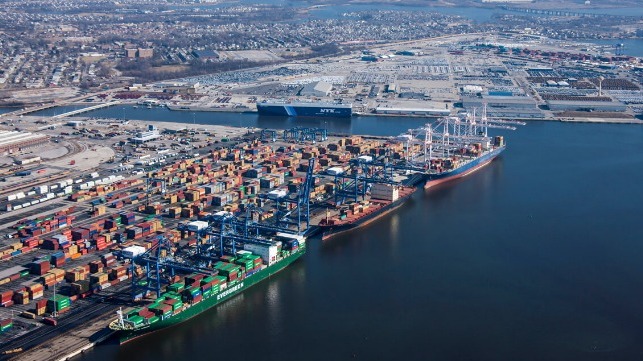 The 312-year-old Helen Delich Bentley Port of Baltimore posted its best quarter ever during the first three months of 2018 as a record amount of general cargo and containers made their way through its public marine terminals.
A total of 2.8 million tons of general cargo crossed the public piers during the first three months of 2018, eight percent more than the first quarter of 2017. The Port also handled 150,000 containers during the first quarter, a 14 percent jump over 2017, which was a record year for container traffic at the Port of Baltimore.
"The Port of Baltimore has firmly established its reputation as a leading economic engine for Maryland, with its best quarter in over three centuries," said Governor Larry Hogan.
The new records follow a record year in 2017 for the port's public and private marine terminals. The Port of Baltimore handled 38.4 million tons of cargo in 2017, the most since 1979 and the third-highest tonnage in its history. The public marine terminals handled a record 10.7 million tons of general cargo.
The Port's combined public and private auto terminals also had a record year in 2017 by handling 807,194 cars and light trucks. It was the first time surpassing the 800,000 car/light truck mark, and it was the seventh consecutive year that Maryland had handled more cars and light trucks than any other U.S. port. Among the nation's ports, the Port of Baltimore ranks first for passenger vehicles and roll on/roll off machinery.