Pictures: Royal Australian Navy's ScanEagle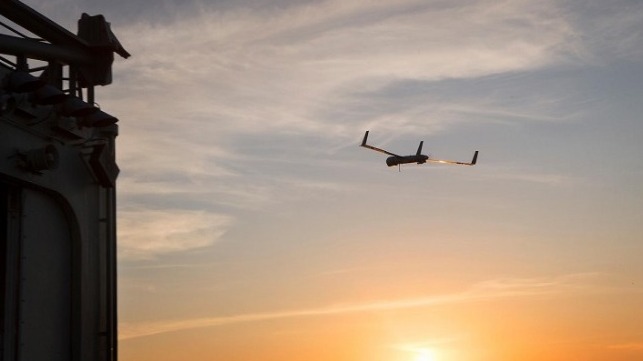 The Royal Australian Navy is celebrating naval aviation with a pictorial tribute to the Insitu Pacific ScanEagle unmanned aerial system (UAS), one of the most widely used tactical UAS in the world, having flown over one million flight hours globally, but a relatively new capability Australia.
On May 8, 2013, ScanEagle AV1422, call-sign ScanEagle 22 became the first maritime tactical UAS operated from an Australian warship by a Navy crew member. To date, embarked operations have been conducted from several Navy ships including HMAS Parramatta, HMAS Choules and HMAS Newcastle, and the Multi-role Aviation Training Vessel MV Sycamore.
The core role of tactical UAS is intelligence, surveillance and reconnaissance. The ScanEagle system consists of multiple remotely piloted aircraft, a pneumatic catapult launcher, a Skyhook recovery system, and a ground control system. The aircraft is a small carbon fiber, long endurance, fixed wing aircraft capable of runway independent operation from land bases and seagoing vessels.
The aircraft typically carries one primary payload and is of a modular design that allows for rapid changes of payloads and other components. Presently, the Royal Australian Navy is operating electro optical and infrared primary payloads. Other payloads include Visual Detection and Ranging (ViDAR), Maritime Automatic Identification System (AIS) and Identification Friend or Foe (IFF).
The ScanEagle UAS is operated by 822X Squadron.