Photos: OS 35 Hulk Arrives in Amsterdam for Recycling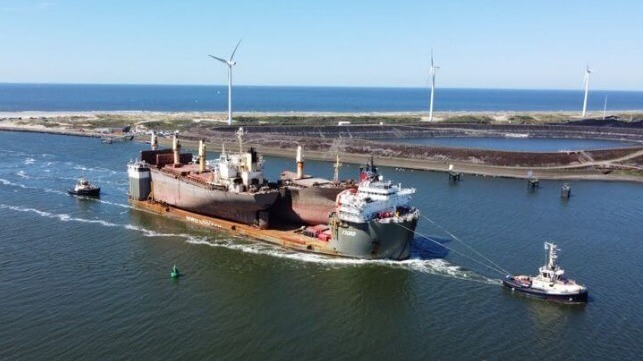 The hulk of the dry bulk carrier OS 35 arrived in Amsterdam, the Netherlands on August 15, just short of a year since the vessel wrecked while departing Gibraltar. Dutch salvage company Koole Contractors released photos of the vessel's arrival at the port transported from Gibraltar aboard the company's heavy lift vessel Fjord.
"We are thrilled to announce the successful retrieval of OS35 following a highly successful operation in Gibraltar," the company wrote on social media. "The dedicated efforts of our incredible team, alongside the collaboration of all involved parties, made this achievement possible."
The salvage operation had begun at the beginning of 2023 and included removing the vessel's cargo of steel bars and preparing it to be lifted from the sea floor where it had come to rest just off one of Gibraltar's popular beaches. The vessel was cleaned and cleared of loose debris in the first phase of the operation which however was hampered by weather conditions. During a storm last winter, the OS 35 broke into two pieces despite the decision to sink the stern to the seabed to stabilize the vessel during the salvage operation.
The final lifting operation involved refloating the stern section by restoring buoyancy. The bow section was more heavily damaged and had to be lifted and positioned with chains and cables before both sections were placed on the semi-submersible. The Fjord was raised out of the water at the beginning of July and departed Gibraltar on the trip to the Netherlands on July 28.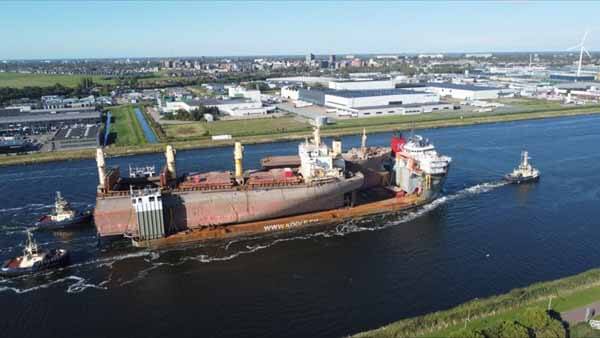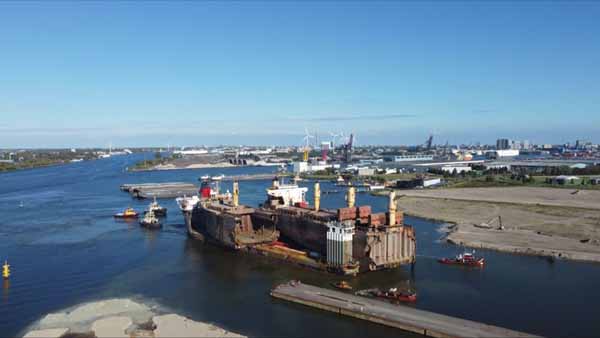 "From Gibraltar, the Fjord was towed to the locks of Ijmuiden, Port of Amsterdam by AHT Seraya Boskalis and it was then handed over to the leading tug Telstar, which continued guidance through the locks and safely navigate the OS 35 and Fjord, ensuring a smooth passage to DECOM Amsterdam," explained Koole.
The 584-foot bulk carrier OS 35 (35,000 dwt) was departing the port of Gibraltar at the end of August 2022 when it struck the anchored Adam LNG. The bulker came to rest just off the shore of Gibraltar with its bow section sinking to the sea flood. The captain of the OS 35 pleaded guilty to a charge of causing pollution from the accident. The Adam LNG only sustained minor damage.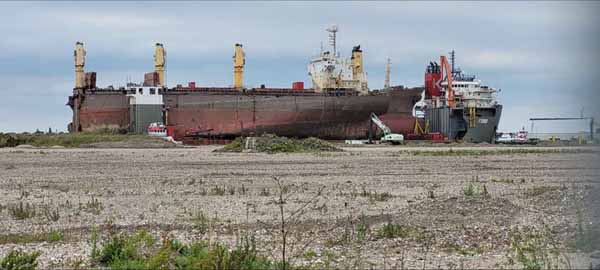 With the vessel moored in Amsterdam, the decommissioning stage of the projects can begin with Koole's onshore teams taking over the project. The hulk is being processed by DECOM Amsterdam, a company that specializes in industrial demolition, remediation, and wreck removal. It was started in 2018 by Koole Contractors as one of the few green recycling operations in Europe and was later acquired by Larendael Participations. DECOM's facilities encompass an area of 16 hectares. Half of it is water, the other half working land giving the recycling yard a capacity of 200 kilotons per year.