Photos: Indonesian Navy Responds to Tanker Collision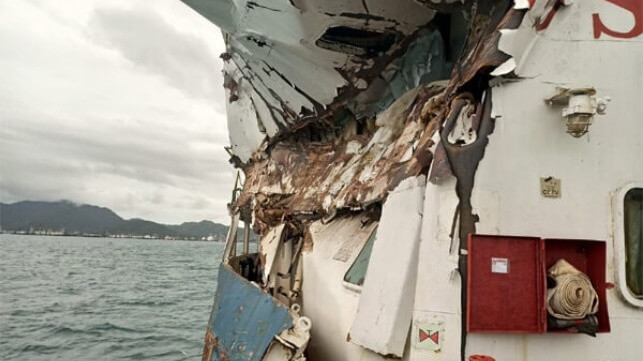 The Indonesia Navy released photos showing the extent of the damage to two product tankers after they collided near one of the country's large oil terminals. The Navy reports that both vessels sustained serious damage but that there were no casualties or pollution during the incident.
The report provided only basic details and no information on the circumstances of the incident and elements such as the timing of the accident or weather conditions.
The product tanker Fortune Pacific XLIX was leaving the terminal near the Merak Seaport on the northwestern tip of Java. The terminal lies off the busy Sunda Strait separating Indonesia and Java.
The 6,459 dwt product tanker's AIS signal shows it was departed overnight on April 9 – 10. The 15-year old vessel built in 2008 and registered in Indonesia is 370 feet long.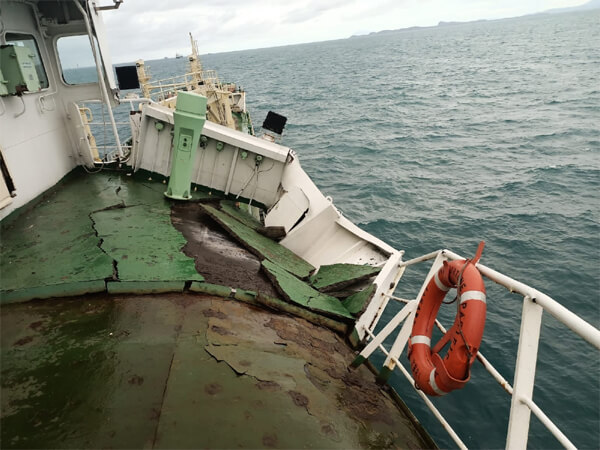 Inbound in the anchorage was another product tanker the Sinar Malahayati. The 20,938 dwt tanker was arriving after a voyage from Saudi Arabia and the UAE. The 17-year old vessel built in 2006 and registered in Singapore is 485 feet long.
The Banten Harbormaster and Port Authority did not indicate the circumstances but the bow of the Sinar Malahayati made contact with the Fortune Pacific XLIX causing damage to the hull, forward superstructure, and the starboard bridge wing. The pictures show the bridge wing dangling and broken, and the superstructure crushed and mangled.
The Banten Navy Commander reports they dispatched a medical team to the ship along with a security team to determine the circumstances and assist with the evacuation of crewmembers who were injured in the accident.
Both vessels were ordered to remain in the anchorage while the harbormaster began the investigation. AIS data shows that Sinar Malahayati was permitted to move to the terminal on April 12. The Fortune Pacific XLIX remains in the anchorage.