Philly Shipyard Announces 275 Layoffs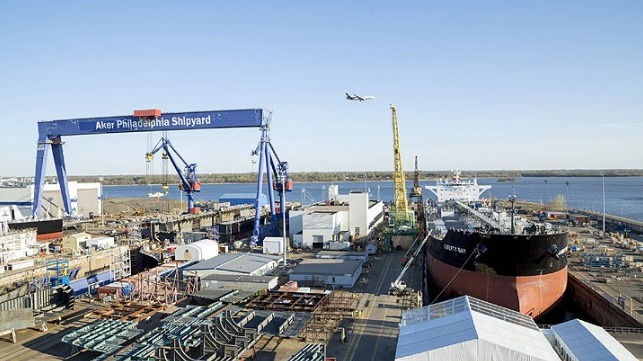 On Tuesday, Philadephia Shipyard notified Pennsylvania's Department of Labor that it is planning to lay off 275 people effective July 20.
The notification - filed on National Maritime Day - comes as the Aker-owned shipbuilder attempts to find new orders in the Jones Act market. After TOTE Maritime suspended its plans to build four boxships for the mainland-Hawaii trade, Philly Shipyard's orderbook was reduced, and it will run out next year if it cannot attract new business. The yard has already laid off 250 people as the volume of work declines.
CEO Steinar Nerbovik believes that Philly will be able to turn around its fortunes. He told the Philadelphia Inquirer that it "will hurt in '18 and '19," but the yard still has a bright future.
Philly's remaining orders include two Panamax container ships for Matson Navigation, which will be the largest vessels of their type ever built in the U.S. The vessels for TOTE would have been a continuation of this series, but TOTE canceled its plans to compete on the route due to the cost of improvements at its proposed Honolulu terminal.
At the time of the cancellation, TOTE's first ships were already under construction and orders for long-lead-time components had already been placed. "[Philly] is exploring alternatives in order to secure contracts and financing for these vessels," the yard said at the time of the announcement. "In addition, [Philly] is continuing to pursue potential new construction projects for other types of Jones Act vessels."