Philippine Regulators are Treating Princess Empress Spill as a "Crime"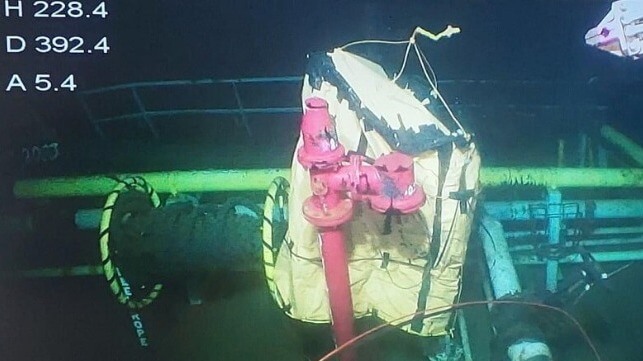 Philippine regulators are moving to pursue formal charges against the operator of the lost tanker Princess Empress, and are treating the matter as a criminal investigation.
The vessel went down off Oriental Mindoro on February 28 with about 800,000 liters of fuel oil on board, and the Philippine Coast Guard believes that three out of its five cargo tanks have leaked their contents into the sea. The resulting pollution has wreaked havoc on the coastal villages of the province, which are reliant on fishing and tourism for income. A full fishing ban for the region remains in effect, and beach cleanup operations continue.
The Philippines' Maritime Industry Authority (MARINA) maintains that the Princess Empress did not have a valid operating permit for domestic trading at the time of the casualty, raising questions about the authenticity of the paperwork that the crew presented to the Philippine Coast Guard prior to departure on the accident voyage. In addition, the Philippines' justice department alleges that the product tanker was not a newbuild - as operator RDC Reield Marine Services claimed - but was rather a rebuilt "scrap ship" that had been purchased and converted. As the investigation picks up speed, MARINA has revoked RDC's permit and ordered it to cease sailing its remaining three vessels.
Additionally, the Department of Environment and Natural Resources (DENR) has filed an administrative complaint against RDC over the damage from the spill, which could lead to daily penalties for the shipowner beginning February 28.
"We are determined to make sure that people do not forget that what happened was a crime and not an accident. It was a crime," Justice Secretary Jesus Crispin Remulla told local media on Tuesday.
Penalties could be coming for officials inside MARINA as well.
"We wish to provide assurance that management will really pursue any formal charge should the fact-finding investigation and process provide probable cause to really file formal charges [against] our officials or employees," MARINA deputy administrator Sonia Malaluan told Rappler.
On scene off Mindoro, spill response operations are still under way. Japanese salvor Fukada and the U.S. Navy Supervisor of Diving and Salvage (SUPSALV) are providing assistance to the response in the form of ROV inspection and intervention, and the U.S. Coast Guard is advising on containment and cleanup operations. NOAA is assisting the Philippine government with satellite imaging and analysis to map the spread of slicks on the surface.