Paul Allen's Research Vessel Maps Wrecked Navy Plane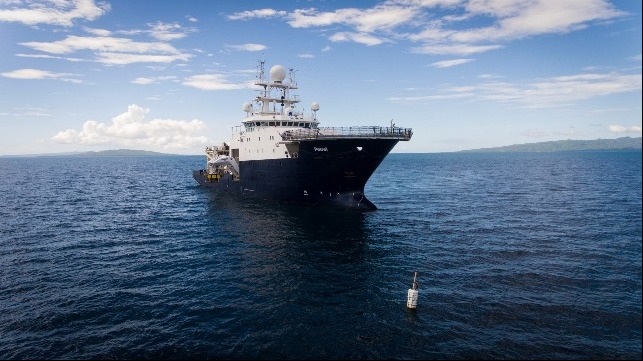 A U.S. Navy mission aboard the privately owned research vessel RV Petrel has mapped the wreckage of the cargo aircraft that crashed into the Philippine Sea near USS Ronald Reagan on November 22.

Using the Petrel's side scan sonar and remote operated vehicle (ROV) to survey the wreck site, the team determined the C-2A aircraft lies on the ocean floor in two main sections, cockpit and fuselage, and that its flight recorder is still intact. Planning continues for an upcoming salvage mission, during which every effort will be made to bring both sections to the surface despite very challenging environmental conditions. At a depth of 18,500 feet (more than three nautical miles) this will be the deepest aircraft recovery ever made and the team with have to contend with several variables, including deep water rigging and weather.
"Salvage of an aircraft at this depth is unprecedented and the condition of the C-2A is unknown, making recovery very challenging. Every effort will be made to recover the aircraft and our fallen Sailors," the U.S. Navy said in a statement.
The wreck site was discovered on December 29 by a U.S. Navy Supervisor of Salvage and Diving (SUPSALV) team using a towed pinger locator aboard a different contracted vessel. In January, the Navy chartered the RV Petrel to support debris field mapping and inform aircraft recovery planning.

RV Petrel is a 250-foot research and exploration vessel, and she is owned by real estate entrepreneur and Microsoft co-founder Paul Allen. She was already in the region on other missions, and a team of SUPSALV personnel embarked in late January and returned to the crash site.

The C-2A aircraft was carrying 11 crew and passengers when it crashed. Eight personnel were recovered immediately by U.S. Navy Helicopter Sea Combat Squadron (HSC 12). For the next three days, Ronald Reagan led combined search and rescue for three missing sailors with the Japan Maritime Self Defense Force (JMSDF), covering nearly 1,000 square nautical miles before ending the search. An investigation into the cause of the crash is in progress.