Pakistan Receives First Cargo of Low-Cost Russian Crude Oil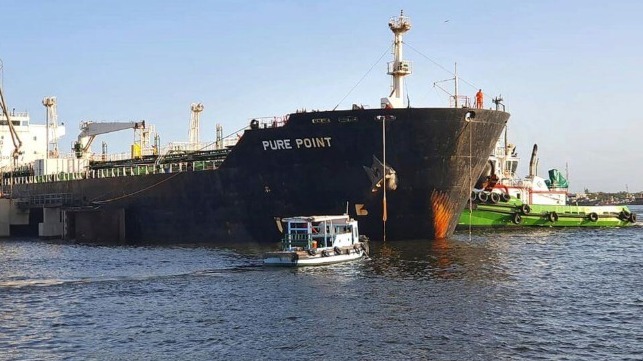 Pakistan has received its first shipment of discounted Russian crude oil, a small parcel of about 350,000 barrels (one LR1 tanker). One more cargo of similar size is expected later in the week, Pakistan Refinery Limited (PRL) reported.
With its exchange rate and reserves of foreign currency in free fall, Pakistan is badly in need of economic relief, and Russia has offered to step in to support its energy market. Pakistani Prime Minister Shehbaz Sharif hailed the agreement with Russia as a landmark diplomatic achievement.
"Today is a transformative day. We are moving one step at a time toward prosperity, economic growth and energy security and affordability," he said. "This is the first ever Russian oil cargo to Pakistan and the beginning of a new relationship between Pakistan and Russian Federation. I commend all those who remained part of this national endeavor and contributed to translating the promise of Russian oil import into reality."
Neighboring India is also a major consumer of Russian oil, and has picked up much of the unwanted capacity left behind by European importers after the Russian invasion of Ukraine. Pakistan is now tapping the same source of discount barrels, albeit at a far smaller scale. Each LR1 tankerload of Russian oil lined up so far amounts to about one day of Pakistani oil consumption.
"If India is buying oil from Russia, we also have a right [to do so]," Finance Minister Ishaq Dar told the media last October.
The first cargo arrived Sunday aboard the Pure Point, a 20-year-old LR1 flagged in St. Kitts and managed in Dubai, an important hub for Russian tanker management.
Russia resumes oil transfers to North Korea
A new report from the UN sanctions monitoring committee suggests that Russia has resumed supplying small-scale shipments of oil to the regime of North Korean Supreme Leader Kim Jong-un. Russia had stopped sending oil to the isolated dictatorship in 2020, but resumed in December and has shipped an average of about 10,000 barrels per month - a minute quantity by global standards, but a noteworthy change in Russian-North Korean relations.
The resumption of oil supplies parallels an agreement on the provision of North Korean munitions for Russian forces on the front line of the invasion of Ukraine. According to the U.S. government, Pyongyang has been shipping arms - in particular, Soviet-standard artillery shells and unguided rockets - for Moscow's use. North Korea denies this charge, but has committed to "holding hands firmly with the Russian president," Vladimir Putin.