OSG Begins Strategic Review After Receiving Buyout Proposal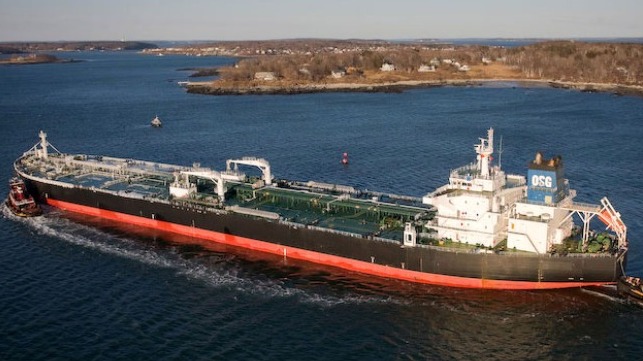 Overseas Shipping Group (OSG) announced that the company is launching a strategic review in response to an unsolicited takeover proposal to acquire all the outstanding shares of the operator of crude and petroleum tankers and barges. According to the announcement, OSG's Board of Directors working with Evercore as its financial advisor has commenced a strategic process to explore, review and evaluate a range of strategic alternatives which could include a sale of all or part of the company, a merger or other business combination with another party, or remaining a public company and continuing to execute on management's long-term business plan.
The actions came after Saltchuk Holdings last week submitted a "non-binding indication of interest regarding a possible transaction" in which Saltchuk would acquire the outstanding common stock of OSG in a transaction valued at approximately $260 million or $3 per share. The offer represents a better than 40 percent premium over the current trading price of OSG's stock. Saltchuk also informed the board that it has already acquired over 15 million shares of OSG representing a 17.5 percent position in the company.
Dating to the 1940s, OSG has been involved with shipping oil from Alaska and other shuttle tankers and barges since the 1960s. Today, OSG is focused on the U.S. flag markets operating under the Jones Act after having spun off its international tankers five years ago. OSG currently has 22 vessel U.S. flag vessels, including three crude oil tankers doing business in Alaska, ATBs, three shuttle tankers, ten MR tankers, and two non-Jones Act MR tankers that participate in the U.S. Maritime Security Program. OSG also currently owns and operates one Marshall Islands flagged MR tanker, which trades internationally.
In a letter to the board of OSG, Mark Tabbut chairman of Saltchuk writes, "Saltchuk has the benefit of having significant experience and great confidence in the future of the Jones Act and the benefits it serves our country. In fact, over the last 20 years, Saltchuk has invested well over a billion dollars in new Jones Act vessels. We believe culturally that OSG is a great fit with Saltchuk."
Saltchuk currently has a broad range of operations including domestic and international shipping, air cargo and marine services, and logistics. Among the companies it owns are TOTE, Foss Maritime, Young Brothers, and Tropical Shipping.
Explaining the logic behind the proposed acquisition, Saltchuk writes to OSG, "We, along with our team of advisors, have followed the company closely and are familiar with its operations, assets, and, more generally, with Jones Act shipping. We are keenly aware of the challenges of the current operating environment facing OSG. A transition to private ownership at this time with a right-sized capital structure will maximize value for current stockholders and better position the company and its employees for future success."
OSG's board noted that it has not set a timetable for the strategic process, nor has it made any decisions related to strategic alternatives, including concerning the non-binding indication of interest. The price of OSG's stock rose 37 percent in trading on Friday, July 2 closing before the holiday weekend at $2.88 per share.