One Dead, Two Injured in Trawler Fire in Iceland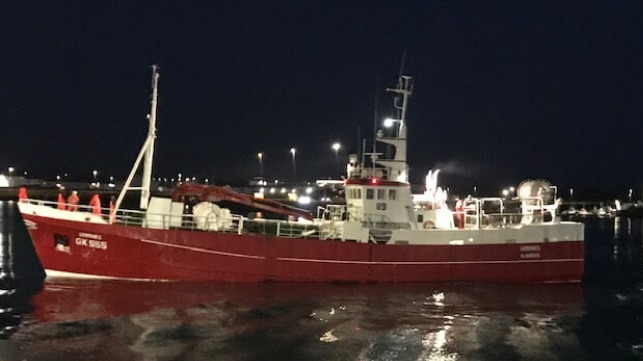 A fire aboard a trawler in the harbor at Njardvik, Iceland claimed the life of one crewmember and left two others injured, according to first responders.
At about 0200 hours on Tuesday, a fire broke out aboard the trawler Grímsnes at the port of Njardvik. The vessel was at the pier and was due to depart later in the day, according to local media.
Four crewmembers escaped safely, but two were injured, including one with serious burns on his back. The seventh member of the crew did not survive.
According to the captain of the Grimsnes, the deceased was a 49-year-old Polish national. The victim had worked with the company for ten years and served on the trawler as a cook, the master told Visir. He is survived by his wife and a teenage son.
Firefighting continued into the morning and was extinguished by day's end. The vessel has taken on a starboard list, and responders have balanced firefighting efforts with the need to maintain vessel stability and prevent pollution, a spokesperson for Iceland's Department of Maritime Affairs told MBL. An investigation will begin as soon as the vessel has cooled enough to enter.
The extent of damage on board the Grimsnes is not yet known, but images from after the fire show burned-off paint on the port side below the wheelhouse, indicating an area of intense heat in an interior compartment. A video of the initial response showed smoke pouring from the wheelhouse.