ONE Completes Purchase of TraPac, Yusen and Rotterdam World Gateway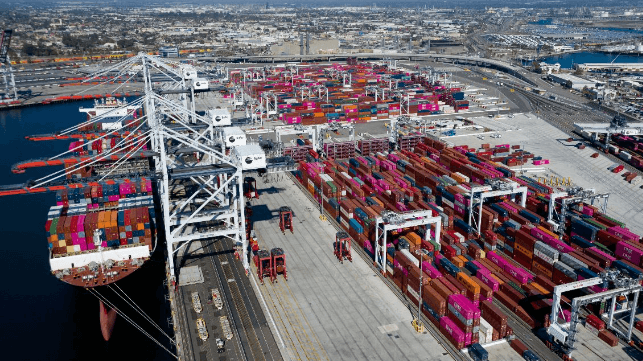 Japanese carrier Ocean Network Express (ONE) has completed the acquisition of three terminal operators, Trapac, Yusen and Rotterdam World Gateway. All were purchased from its parent companies and had been announced late last year; the completion of the deals is now finished after ONE secured regulatory approvals.
The container liner now says it has completed the acquisition of a 51 percent stake in TraPac and Yusen Terminals in the U.S West Coast and a 20 percent stake in Rotterdam World Gateway (RWG).
TraPac was established in 1985 by Mitsui O.S.K. Lines to operate a container terminal in Los Angeles. Today it also has a terminal in Oakland, and it provides vessel stevedore services. Yusen Terminals, which has been doing business at Port of Los Angeles since the 1990s, is jointly owned by NYK and Macquarie Infrastructure Partners. Together, TraPac and Yusen hace a combined capacity of 4.3 million TEU annually.
RWG, on its part, operates a highly automated container terminal in the port of Rotterdam with an annual capacity of 2.6 million TEU.
The acquisitions are part of a $20 billion investment plan over the medium term. ONE says that apart from strengthening its presence in North America and Europe, the acquisitions safeguard its access to terminal capacity in key gateways.
"Container terminals are a critical link in the supply chain with the unique ability to cushion the impact of operating disruptions. ONE will leverage these terminals to help customers manage supply chain disruptions and improve service quality. In addition, these assets will enable ONE to deliver faster and more reliable service to our customers.," said Hiroki Tsujii, Managing Director of ONE's Product & Network Division.
The terminal investment comes when the containerized freight industry is adjusting to a drop in revenue, attributed to high interest rates, inflation, energy costs and oversupply of tonnage caused by the delivery of a large number of newly built vessels this year. The slump in demand has impacted ONE's business, with cargo movements from Asia to North America during July-September quarter declining by 7.5 percent year-on-year.
Owing to the declining demand, ONE is forecasting a massive 94 percent nosedive in full-year profits, from more than $14 billion last year to just $850 million this year.
Nonetheless, ONE is still taking newbuild deliveries. As of the end of September, ONE had a total of 39 newbuilds on order. The world's sixth largest container carrier currently operates a fleet of 210 vessels.