NTSB: Caribbean Fantasy Fire Caused by Fuel Leak
On Tuesday, the U.S. National Transportation Safety Board issued its conclusions regarding the 2016 fire aboard the ropax ferry Caribbean Fantasy, which led to the evacuation of her passengers and her grounding off Punta Salinas, Puerto Rico. The NTSB determined that the fire's proximate cause was a fuel leak that contacted a hot surface. Equipment issues - two failed deployments of fixed firefighting systems, one failed structural fire boundary and several disabled quick-closing valves - aided in its spread.
The fire began in the Fantasy's main engine room when fuel sprayed from a leaking blank flange on the port main engine's fuel supply line and contacted the hot exhaust manifold. The flange had been assembled with the wrong gasket material, and the gasket had deteriorated and failed.
Several factors inhibited the initial response to the fire. The Fantasy's engineering crew had inserted bolts into the fuel system's quick closing valves to prevent them from shutting during routine operations, and these were permanently fixed in place. With the shutoff valves stuck open, the fuel flow continued uninterrupted. A CO2 fixed firefighting system did not impede the blaze because the engine room's ventilation dampers did not properly close. A water-mist fixed firefighting system also failed to suppress the fire, likely because of the simultaneous activation of multiple coverage zones and a reduced water supply.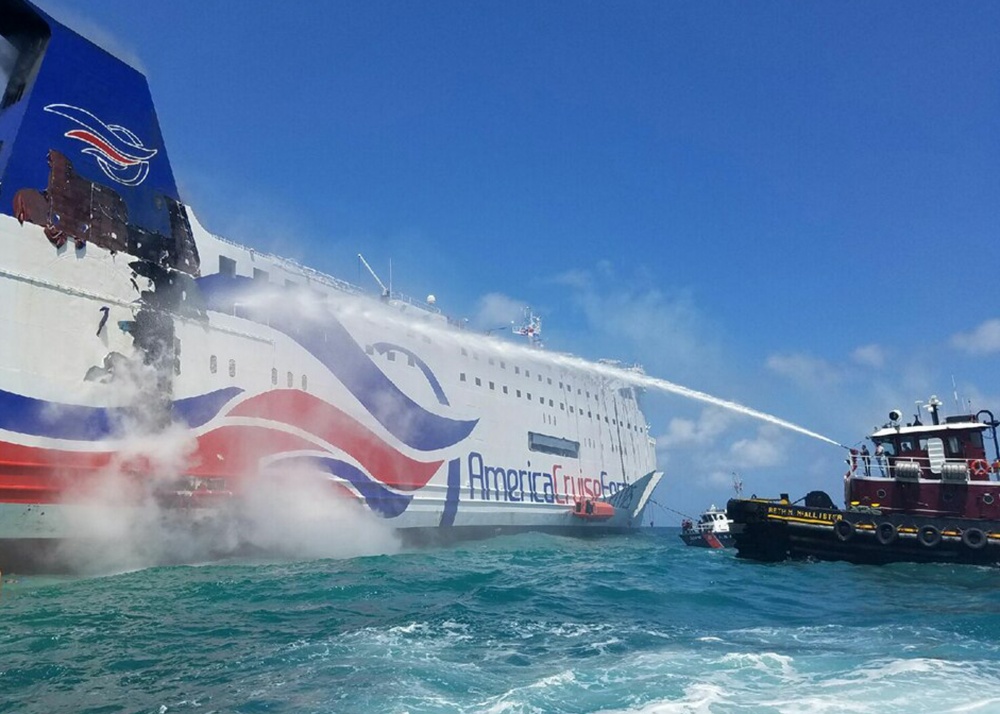 The fire eventually spread to the garage deck above the engine room, and the master ordered abandon ship. The evacuation proceeded in a "disorganized and inefficient" manner, according to NTSB, but was ultimately successful thanks to assistance from first responders. 45 out of 511 passengers and crew on board required medical tratment for non-life-threatening injuries, including five ankle injuries caused by an improperly deployed evacuation system.
The vessel continued to burn for three days, and the fire was only extinguished after she was brought alongside the pier in San Juan, Puerto Rico, where shoreside firefighters could put out the last hot spots. The fire caused $20 million in damage, and the Fantasy's owner ultimately decided to scrap her rather than opt for repairs.
NTSB concluded that the probable cause of the fire aboard the Fantasy was the operator's "poor safety culture" and poor maintenance practices. It also faulted the Fantasy's flag state and its class society for failing to ensure that the operator was implementing its SMS.
Port state control records indicate that the Caribbean Fantasy had been cited multiple times for deficiencies prior to the fire, including a six-day detention the month before for issues with her auxiliary engines, her emergency fire pump and the cleanliness of her engine room. Investigative journalists with ProPublica found that the U.S. Coast Guard had cited the Fantasy for 100 deficiencies over five years, including fuel oil leaks and inoperable fire doors.