Norwegian Joy Christened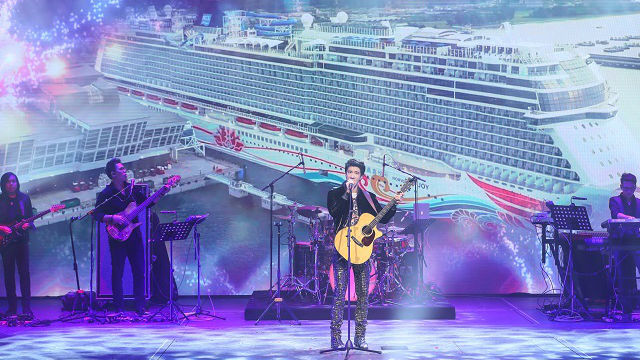 Norwegian Joy, Norwegian Cruise Line's first custom-designed ship for the Chinese cruise market, was christened on Tuesday.
The ceremony was held on board the vessel in Shanghai and featured a performance by the ship's Godfather, singer songwriter, music producer, actor and film director, Wang Leehom.
Measuring 1,094 feet long and 136 feet wide, the ship is the second in Norwegian Cruise Line's Breakaway-Plus class and was built by Meyer Werft. The 167,725 gross ton vessel can accommodate 3,883 guests.
In recognition of Norwegian Joy's hull art, designed by famed Chinese artist Tan Ping and featuring a majestic phoenix, the christening ceremony began with a performance by renowned dancer and choreographer Yabin Wang, with her interpretation of the spirit of the phoenix through dance. Tan Ping, who also made a special guest appearance at the ceremony, selected the phoenix as the focal point for the ship's hull artwork, as the iconic bird represents beauty and good luck in Chinese culture.
Wang Leehom, Norwegian Cruise Line Holdings executives and local Chinese government officials simultaneously smashed bottles of champagne against the side of a replica ship hull, which released an over-sized bottle of Veuve Cliquot that shattered against the ship's actual hull.
Norwegian Joy will feature a two-deck race track, with enough room to accommodate 10 electric go-karts at one time. It will be the world's first race track on an oceangoing vessel. In addition, she will be equipped with an outdoor laser tag arena, water slides, bumper cars and Norwegian's largest shipboard mall.
Below the waterline, she features ABB Azipods and the Silverstream hull air lubrication system.
Norwegian Joy's homeports are Shanghai and Tianjin.