Norwegian Bliss Delivered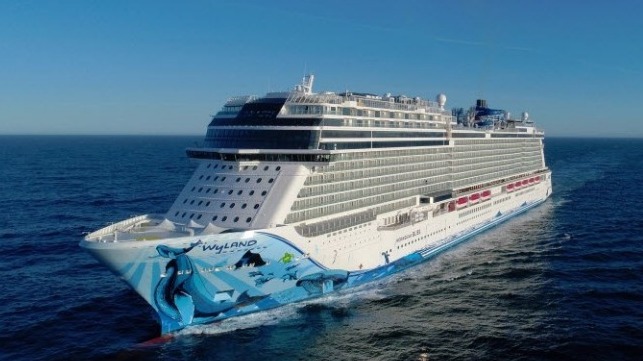 Norwegian Cruise Line took delivery of the 168,028-gross-ton Norwegian Bliss from Meyer Werft during a ceremony in Bremerhaven, Germany, on Thursday marking the conclusion of an 18-month building period.
Norwegian Bliss is the third ship in the line's Breakaway Plus class and the 11th ship built for Norwegian Cruise Line by the Papenburg based shipyard. The vessel can carry 4,000 passengers and 1,700 crew. She has electric pod propulsion drive, a scrubber system and a heat recovery system.
She will cruise to Southampton to begin her transatlantic journey on April 21. Upon her arrival to the U.S. on May 3, the festivities for her U.S inaugural tour will commence with two-night preview events in New York, Miami and Los Angeles, and will conclude with a grand christening ceremony and sailing from her first homeport at Pier 66 in Seattle on May 30. Following a three-day inaugural voyage with a call at the port of Victoria, British Columbia, she will return on June 2 and will then embark on her first seven-day voyage to Alaska.
Beginning June 2018, Norwegian Bliss will spend her summer cruising seven-day voyages to Alaska, and fall season cruising to the Mexican Riviera from Los Angeles. In winter of 2018, she will sail the Caribbean from Miami, and in the 2019 fall/winter season she will cruise from New York City to Florida, the Bahamas and Caribbean.
Norwegian Bliss - Main Data
Tonnage: 167,800 GRT
Overall length: 333.46m (1,094 feet)
Width: 41.4m
Number of decks: 20
Draft: 8.40m
Machine output: MAN 3x 12 V 2x 14V total 76,800 kW
Propulsion power: 44,000 kW
Speed: 23.2 knots
Passengers: 3,998
No. of passenger cabins: 2,043
Number of outside cabins (incl. suites): 1,599
No. of inner cabins: 444
Crew maximum: 1,716
Theater seating capacity: 858
No. of restaurants: 18
No. of bars/lounges: 12
Total weight of applied paint: approximately 300t
Total length of installed cables: 2,200 kilometers (1,370 miles)
Total length of installed pipes: approximately 400 kilometers (250 miles)
Flag: Bahamas
Class: DNVGL