Norway Approves Plans to Electrify Hammerfest LNG Terminal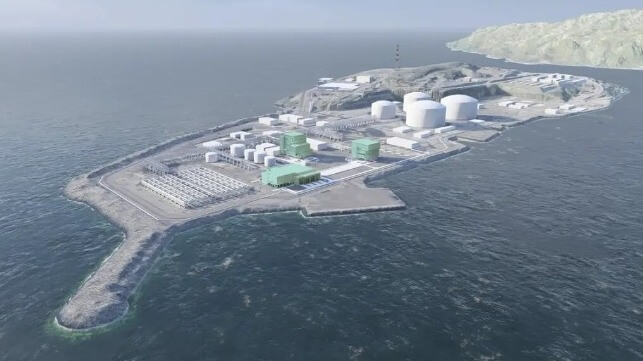 The Norwegian government has given the green light for Equinor's plan to upgrade the Snøhvit gas field and the Hammerfest LNG export plant, ensuring that gas will continue to flow at high rates through the end of the decade.
Snøhvit is a midsize LNG export development, and it was the first of its kind in Europe. The offshore gas field is located in the Barents Sea, above the Arctic Circle, and the gas is pumped more than 100 miles south to the Hammerfest LNG export terminal on the island of Melkøya. The project began operations in 2007 and it liquefies about 4.3 million tonnes per annum of gas. The carbon dioxide extracted from the gas stream is pumped all the way back to the source field, where it is reinjected for storage and well stimulation.
The upgrade plan will see the installation of all-electric onshore gas compression facilities at Melkøya, which will help sustain production at the gas field. This will include installation of a compressor module, a new electric substation, steam boilers, and a substantial amount of grid upgrade work to get the extra electric power to the plant. The grid work includes a purpose-built tunnel for new high voltage power cables to connect distant power sources with nearby Hyggevatn, along with new subsea cables to connect Hyggevatn to Melkøya.
The plant electrification project will reduce CO2 emissions from the site by about 850,000 tonnes per year, according to Equinor. The plant is one of the largest CO2 point sources in Europe, and electrification should cut its emissions from operation to zero. (Emissions from use of its product will continue.)
However, local stakeholders have expressed concern that electrifying Hammerfest LNG will raise electricity prices for other consumers in Finnmark. Norway's parliament, the Storting, encouraged the government to consider authorizing carbon capture and storage (CCS) rather than electrification at Hammerfest LNG; Equinor opposed CCS because of the high cost, and the government ultimately approved electrification - with conditions. The permit pushes back full electrification from 2028 to 2030, with backup gas power available until 2033.
"The project ensures long-term operation and export from Melkøya towards 2050," said Geir Tungesvik, Equinor's EVP for Projects, Drilling & Procurement.