Nigerian Pirates Abduct Five Seafarers from Freighter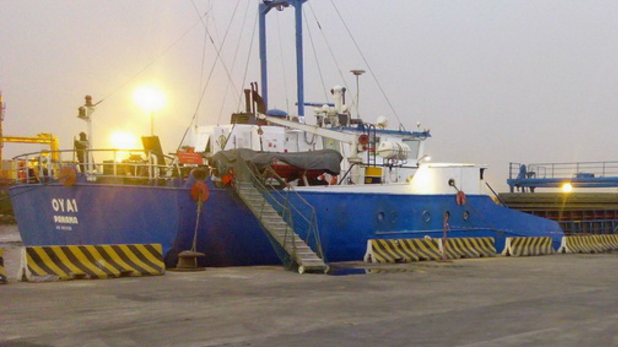 Moroccan media report that the general cargo vessel Oya 1 (ex name Celia) was boarded by pirates in the Gulf of Guinea on the night of July 29. The attackers reportedly abducted two Moroccan officers, Ahmed Janani and Abdelkader Benhala, and three other crewmembers.
The ICC IMB Piracy Reporting Centre confirmed that the Nigerian Navy responded to an attack on a general cargo ship 15 nm southwest of Bonny Island at about the same time. IMB said that it was reported that some crew members were missing, and that the Nigerian Navy towed the vessel into port for an investigation.
Nigeria pushes back on maritime piracy
The Nigerian Navy recently extended a surge operation to counter attacks on merchant shipping in the Gulf of Guinea, which spiked last year with multiple hijackings and kidnappings. The service's chief of staff, Vice Adm. Iboke-Ete Ibas, said that the Nigerian Navy had reduced the count of successful piracy incidents by 90 percent year-on-year for the period from January through June. "This improvement in security situation within Nigeria's offshore maritime domain is attributable to the intensive patrols and efforts of Operation Tsare Teku," he said. "The Nigerian Navy remains absolutely committed to creating a secure and enabling maritime environment for economic activities to thrive toward national growth,"
The waters off Nigeria continue to lead for maritime kidnappings, with 31 crewmembers abducted in the year to date, according to the IMB. The Gulf of Guinea also leads for armed attacks on vessels. Nigeria's legislature has taken note: the leader of the Nigerian house of representatives, Yakubu Dogara, recently introduced a bill to increase funding for anti-piracy operations. "The increasing level of attacks and violence in the gulf of Guinea have given Nigeria and other countries in the sub-region very damaging and negative image," he told Nigeria's The Cable. "The major component of this bill is the creation of the maritime security fund . . . that will empower the Navy to secure our waters as part of its primary responsibility."