New Technology, New Logistics Potential
A range of new technology developments are targeting port logistics.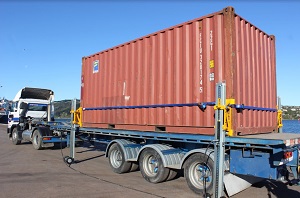 A Portable Container Lift System
Bison has launched the C-Lift P32 - a portable container lift system that enables shipping, logistics and military operators to lift containers in any location. The P32 is easily transported, sets up in minutes and allows containers of all sizes and weights up to 32 ton (70,000lb) to be lifted on and off trailers. A key part of the P32 design is Bison's patent pending lift and lock mechanism, which reduces the size of the hydraulic system considerably, but still enables heavy containers to be elevated 1.65 meters (65 inches) off the ground.
The system can be used in factories or warehouses to ease the pressure of live loading and chassis detention costs. Military, aid and project logistics operators can use the P32 to get containers in and out of remote locations more easily, avoiding reliance on local infrastructure. Bison is also fielding interest from construction and removals firms, wanting a mobile solution for delivering and collecting full containers at construction and urban sites.
Mobile Port Crane
Sennebogen has introduced its new mobile harbor crane 9300 E with a working radius of 40 meters (131 feet). The crane handles vessel sizes up to Panamax class for bulk handling and feeder ships as well as standard vessels for containers. It is also suitable for heavy cargo and general cargo with 90 ton load capacity and almost 20-meter (66-foot) jib working radius.
In addition to the diesel-hydraulic drive, there is the option of an electro-hydraulic drive, which can also reduce the operating costs by up to 50 percent in addition to providing emission-free operation. In both drive variations, the winches achieve lifting speeds of 100m/min (328 feet per minute).
Battery-Powered Big Rig
Trucking company GSC Logistics is testing a battery-powered big rig at the Port of Oakland in September. The company is launching a three-year trial with a heavy-duty, all-electric truck, part of a statewide effort to determine the feasibility of zero-emission freight hauling.
GSC Logistics said its truck will shuttle import containers from Port of Oakland marine terminals to a nearby yard. The rig has a 160-kilometer (100-mile) battery range.
The Port of Oakland said the state-sponsored trial by GSC Logistics fits well with its emission-reduction efforts. The Port said it has reduced diesel particulate emissions from harbor trucks by 98 percent in the past decade.
California's Air Resources Board initiated the zero-emission truck trial last year. It's sponsoring a test with five battery-powered rigs in Southern California concurrent with the Oakland study. Shenzhen, China-based BYD Co. is manufacturing the trucks.
Toyota's Fuel Cell Truck
In April this year, Toyota Motor North America, Inc. (TMNA) revealed "Project Portal" - a hydrogen fuel cell system designed for heavy duty truck use at the Port of Los Angeles.
Project Portal is the next step in Toyota's effort to broaden the application of zero-emission fuel cell technology that can serve a range of industries. It is a fully functioning heavy duty truck with the power and torque capacity to conduct port drayage operations while emitting nothing but water vapor. Heavy duty vehicles make up a significant percentage of the annual emissions output at the Port of Los Angeles, and the Portal feasibility study may provide another path to further reduce emissions.
The Project Portal platform is designed to provide the target performance required to support port drayage operations. The truck generates more than 670 horsepower and 1325 pound feet of torque from two Mirai fuel cell stacks and a 12kWh battery, a relatively small battery to support class 8 load operations. The concept's gross combined weight capacity is 80,000 lbs., and its estimated driving range is more than 200 miles per fill, under normal drayage operation.
The zero-emission truck proof of concept study will begin this summer and contribute to the Port's Clean Air Action Plan, which has dramatically reduced harmful emissions from operations at the Ports of Long Beach and Los Angeles since 2005.
In this video, the fuel-cell truck outsprints a comparably powerful diesel truck. The advantage of 100 percent torque delivered instantly, from zero rpm.