New Mooring Technology Operational for Tankers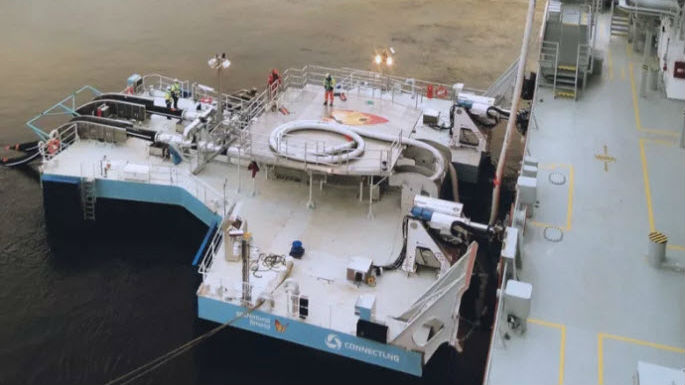 Cavotec's EX-certified MoorMaster automated mooring units have supported the first ever transfer of LNG from a ship to a floating LNG platform. MoorMaster is a vacuum-based automated mooring technology that eliminates the need for conventional mooring lines. Remote-controlled vacuum pads recessed in, or mounted on the quayside or pontoons, moor and release vessels within 30 seconds.
Gas Natural Fenosa and Connect LNG successfully conducted a commercial LNG delivery with a Universal Transfer System in Norway on October 7. The system was fitted with two MoorMaster units – the first EX- and DNV GL-certified automated mooring systems ever built. The system is also the first non-military ship-to-ship automated mooring application and the first ATEX-certified automated mooring application anywhere in the world.
The MoorMaster system offers the option of providing an automated emergency release system and paves the way for safe and rapid mooring for LNG and LPG tankers during the transfer of fluids to onshore storage terminals without the need for vessel modifications, says Cargotec.
While MoorMaster has been in use at a variety of bulk and container handling, Ro-Ro and lock applications around the world for many years, this is its first application in the oil and gas sector.
A First for Ferries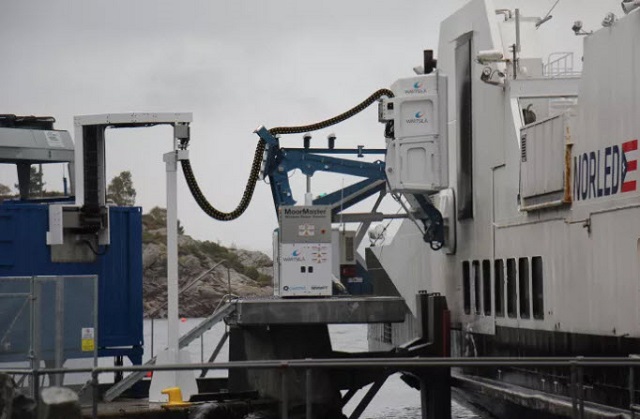 Earlier this year, Cavotec, together with group of industrial partners, conducted the world's first successful testing of a combined wireless induction charging and automated mooring system with a Norled hybrid passenger ferry.
The new wireless charging system, developed by Wärtsilä in partnership with Cavotec, is based on inductive power transfer and uses MoorMaster. Other companies involved include power company Haugaland Kraft, marine engineering services provider Apply and ship builder Fjellstrand.
Inductive or wireless charging uses an electromagnetic field to transfer energy between two coils. A coil is used to create an electromagnetic field, and a second induction coil converts this back into electrical energy to charge on-board batteries.
The system is designed to transmit power loads in the MW range. The system can maintain efficient power transfer at distances of more than 50 centimeters (20 inches) between the two charging plates installed at the quayside and integrated into ship-side, safely and reliably. No other wireless charging system in the transport sector is as powerful, or capable of maintaining efficient power transfer at such distances.
The new system was successfully tested several times in August and September 2017 with Norled's Folgefonn double-ended, 85-meter (280-foot), Ro/Ro hybrid passenger ferry which carries 76 cars and 300 passengers.