New JV Develops Blockchain Systems for Port of Shanghai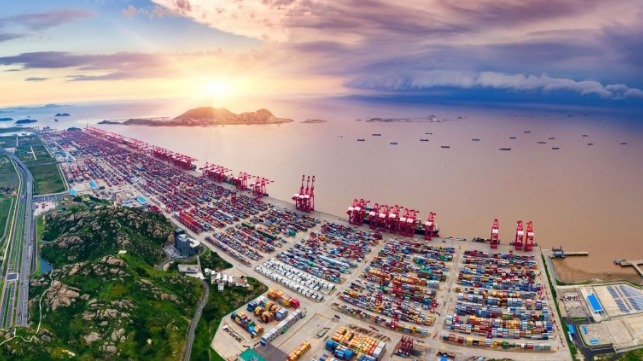 Ideanomics, a Hartford-based technology company, has launched a port software JV with the Asia-Pacific Model E-Port Network, the port technology initiative of the Asia-Pacific Economic Cooperation (APEC) forum. The new JV will design and field an electronic port clearance system based on blockchain.
Shanghai and Guangdong, which together handle almost half of China's seagoing trade, will be the first ports for the Ideanomics-APMEN JV. The initiative aims to enhance the existing E-Ports infrastructure in these seaports with AI and blockchain technology, extending service "from port to port and warehouse to warehouse." According to Ideanomics, this will help improve the efficiency of customs clearance, help control risk, and allow consumers to track goods across borders.
According to Ideanomics, the JV will also facilitate financial transactions between lenders and customers, eliminating middlemen. The JV would charge 0.5 to 2.0 percent of lending volume for its services.
The JV will also be involved in fintech (financial technology) transactions - specifically, the securitization of high yield assets. These asset-backed securities would be marketed through Ideanomic's own sales network using blockchain-based fractionalization and tokenization (breaking up an asset's ownership into small units, similar to stock but with a verifiable blockchain "paper trail").
Ideanomics did not specify the assets that would be targeted for securitization in the port joint venture, but it would not be the firm's first transaction of this kind: it is also involved in a $24 billion fundraising round for China's largest electric bus operator, which will include the issuance of token-based digital financial products on the international market.
Hartford, Connecticut-based Ideanomics is headed by Bruno Wu, the CEO of leading Chinese media and investment company Sun Seven Stars Entertainment & Media. The software firm's former name was Seven Stars Cloud.
APMEN was founded to promote "E-Ports," paperless trade, and supply chain data transparency, security and privacy. APMEN has 16 member ports around the Pacific Rim, including New South Wales, Australia and Vancouver, British Columbia. Two APMEN executives will take the top leadership roles for the new joint venture, but Ideanomics will own a 60 percent majority.