Two 100 ton cranes have been delivered to Russia's new Zvezda mega-shipyard.
The cranes are 94.5 meters (310 feet0 high with a reach of 81.7 meters (268 feet). They were built as part of a joint contract between Far Eastern Plant Zvezda and China Heavy Industry Corporation Nantong. The Chinese yard will deliver another three cranes by the end of the year: two with a lifting capacity of 320 tons and one with a lifting capacity of 1,200 tons.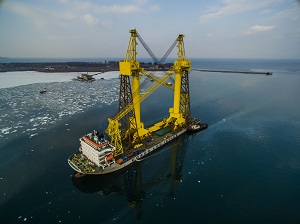 Zvezda has also signed a deal for the delivery of five self-propelled heavy transporters with load capacity of 650 tons with Suzhou Dafang Special Vehicle Co. Ltd.
Russia began construction of the shipyard in March last year. It will be the largest civil shipyard in Russia as well as a base for offshore equipment manufacturing and development. It will produce ships with water displacement up to 350,000t, offshore platform infrastructure, reinforced ice-class vessels, special vessels and other types of marine equipment.
The yard is being built in three stages. Zvezda's first stage will enable the construction of mid-tonnage ships and marine facilities. The second stage will see the commissioning of a dry dock and full-cycle production shops for large-tonnage vessels and marine facilities. The third stage will allow for the construction of complete offshore marine facilities.
The yard is anticipated to be capable of starting construction of Arctic-capable oil tankers and LNG carriers by 2020.
The shipyard facilities will feature the latest production equipment, robotic work cells, machine-driven and automated lines, standard jigs and fixtures and IT systems to support the high-tech production and the use of machines and automation.
Zvezda is being built by a consortium consisting of Rosneftegaz, Rosneft and Gazprombank. A number of agreements have already been signed to establish joint ventures with the participation of Rosneft, FESRC, Damen, Keppel, and MH Wirth.
Rosneft will be the first customer of the new shipyard with an order for four reinforced ice-class support vessels. The pilot order is to be completed in 2019. Gazprom, Novatek and Sovcomflot have also already reportedly signed letters of intent for vessel orders.