Navy to Repair USS McCain at Yokosuka Dockyard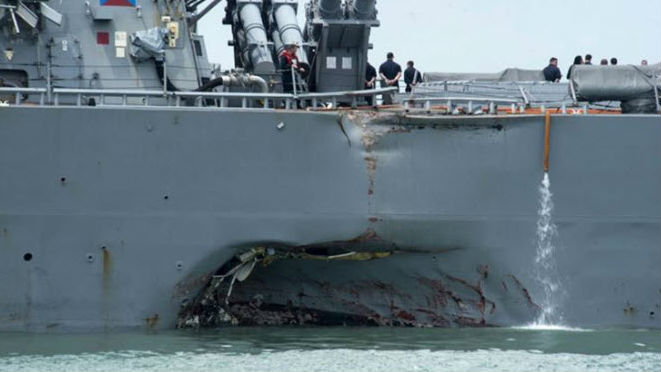 On Wednesday, the Navy announced that it will transport the damaged destroyer USS John S. McCain from Singapore to the Seventh Fleet naval dockyard in Yokosuka, Japan for repairs. The McCain collided with the product tanker Alnic MC near Singapore on August 21, resulting in the death of 10 sailors.

The Navy's damage assessment found that the work could be completed in Japan at the lowest cost and in the shortest time period when compared with other available options. Sister ship USS Fitzgerald, which suffered more extensive damage in a collision in June, will be carried by heavy-lift ship to Ingalls Shipbuilding in Mississippi for repairs. The estimate cost to restore Fitzgerald to service is $370 million, including transportation.

The Navy said that in addition to saving time and money, repairing the McCain in Yokosuka will provide stability and continuity to crew members and their families – unlike the experience for the Fitzgerald's crew. About 85 percent of the Fitzgerald sailors are being transferred off their ship before it leaves, with the option to seek reassignment in Japan or to transfer into other theaters, depending on berth availability.
In Yokosuka, the McCain's crew will focus on training, readiness and certifications to prepare the ship for her return to operations. McCain's crew lacked six out of 10 high-level warfighting certifications at the time of the vessel's collision, and the vessel was operating on training "waivers," as was the Fitzgerald.
In response to the two deadly accidents, chief of naval operations Adm. John Richardson has announced a new fleetwide focus on training and safety, including a thorough review of all certification waivers. The Navy is also creating a new oversight body for training for Japan-based ships, to be called "Naval Surface Group Western Pacific."