Navy Calls Off Search for Second Man Overboard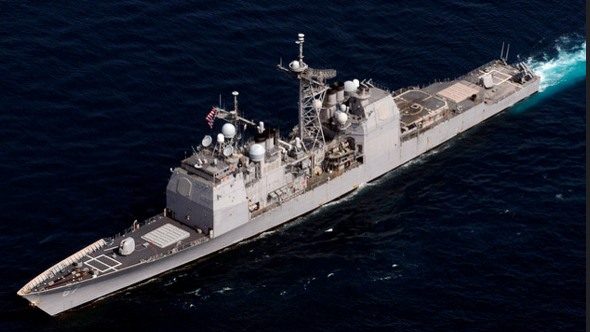 On Sunday, the U.S. Navy and the Japanese Coast Guard suspended a search for an unnamed Navy sailor who went missing Thursday night. The sailor, a crewmember on the cruiser USS Shiloh, was presumed overboard; the Navy launched a massive search effort that eventually covered an area of over 5,000 square miles.
Helicopters and planes from the USS Ronald Reagan, the USS McCampbell and the Shiloh conducted an airborne search, aided by shore-based P-8 Poseidon patrol aircraft. The Shiloh, McCampbell, Reagan, USS Barry, USS John S. McCain, Japan Maritime Self-Defense Ship Ashigara and Japanese Coast Guard Ships Kudaka and Ryuku conducted a surface search. 50 hours passed without sign of the missing sailor, and the Navy called off the SAR effort at midnight on Sunday.
"The decision to suspend the search was not arrived at lightly. Our thoughts are with our lost shipmate, his family, and the officers and crew of USS Shiloh," said Rear Adm. Charles Williams, commander, Carrier Strike Group 5. "I am thankful for the dedication and professionalism shown during this search by the U.S. Navy and our Japanese allies."
The Navy has launched an investigation into the circumstances of the sailor's disappearance; the crew of the Shiloh will conduct a memorial service for their missing crewmate.
The news of the lost sailor from the Shiloh follows shortly after the Navy ended its search for fire controlman 2nd class Christopher W. Clavin, who was spotted falling overboard from the cruiser USS Normady last Tuesday. Navy and Coast Guard assets searched an area of 6,300 square miles looking for Clavin, but called off the search Friday evening.
"We are deeply saddened by the loss of our shipmate, Petty Officer Chris Clavin. He was an important part of the team and a friend to so many on board," said Captain Derek Trinque, commanding officer of USS Normandy.