NATO Partners Test Out Over 90 Unmanned Systems at Sea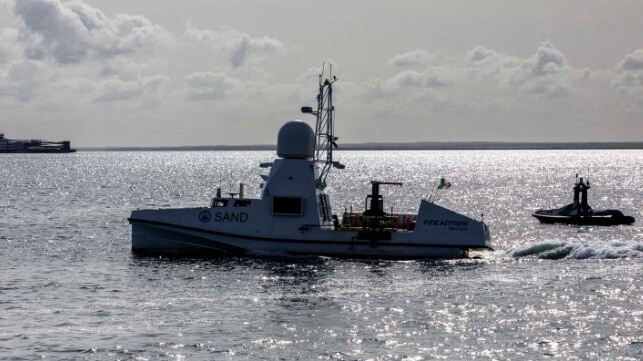 The Royal Navy's R&D teams and robotics specialists recently joined a long-running, large-scale exercise in Portugal, which experimented with almost 100 uncrewed systems in a maritime environment.
Over three weeks, more than a dozen nations joined in the biggest autonomous war game event of the year. The Royal Navy sent members of its Develop Directorate alongside its new experimentation ship, the former crewboat XV Patrick Blackett. It marked the Blackett's first overseas deployment in British service. Divers from the Diving and Threat Exploitation Group and other specialist units also joined the delegation.
Back-to-back excercises focused on system development and real-world application, including protection of subsea infrastructure - a role which has taken on vital importance after the example of the Nord Stream pipeline attacks.
A broad range of NATO and near-NATO allies took part, including Sweden (which is awaiting Turkey's approval of its NATO membership) and Ireland (historically neutral).
The UK, US, Portugal and Spain each set up a "virtual ship" command center to provide command & control functions for the near-shore exercise. They tested out how more than 90 different unmanned systems from more than a dozen NATO partners could work together cooperatively, and how they could communicate and transfer tasking between them. Missions included ISR, interdiction and payload delivery, among other tasks. Industry partners also demonstrated the use of a heavy-lift drone to launch a small torpedo, similar to the role played by an anti-submarine warfare helicopter.
Next up is exercise Dynamic Messenger, which will focus on using autonomous systems out at sea.
"The operational experimentation of uncrewed systems, this year, in a more representative NATO task group structure has relied on integration between NATO partners and driven the UK's leading engineering," said Simon Lewinson, UK head of delegation. "This gave the virtual task group a common operating picture, including data feeds from each nation's unmanned assets."