MSC Cruises Takes Delivery of the Revolutionary MSC Seaside
MSC Cruises is taking delivery of its revolutionary new cruise ship the MSC Seaside on November 29, 2017. Designed by Fincantieri S.p.A., and built at their Monfalcone shipyard, the 153,316 gross ton MSC Seaside is the largest cruise ship ever built by Fincantieri. Measuring 1,059 feet in length, it incorporates a number of unique design elements.
Explaining the design, Fincantieri CEO Giuseppe Bono said, "This new concept will provide the owner with more revenue-generating solutions; more staterooms than a comparable, contemporary design; more open deck space; and an increase in performances, being significantly more efficient."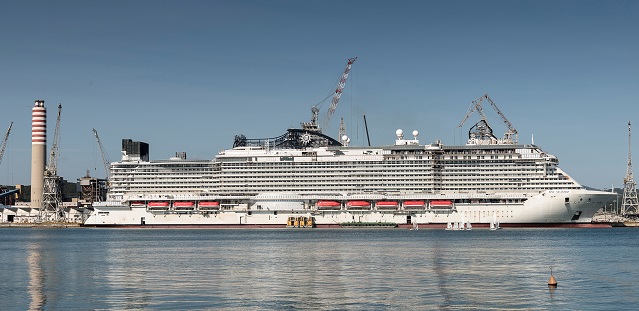 Developed by Fincantieri's senior chief designer, Maurizio Cergol, the Seaside concept repositions the engine room to a more historical midship location, creating a more balanced ship and lessening the stresses on the hull. It also provides a more efficient design with a central casing and two passenger stair towers, one forward and one aft. The number of interior fire bulkheads is reduced, and the less desirable bow and stern areas are used as non-revenue spaces. Technological advancements are also expected to reduce fuel consumption by as much as 25 percent.
The Seaside concept sought to create an open ship that brings passengers closer to the sea. Recently, as cruise ships have gotten larger, there has been less open deck space per passenger, explains Cergol. The MSC Seaside reverses this trend, with one of the highest ratios of outdoor space (approximately 150,000 square feet outside versus a total of 460,000 square feet) and an increased number of balcony staterooms.
The design blends indoor and outdoor areas, including dining, bars, lounge areas, and a glass-walled multi-deck atrium. The open-air promenade on Deck 8, which is the widest on any ship, features two catwalks with glass floors and railings. There is a large pool area on the stern of Deck 7 and two panorama glass elevators rising to Deck 16 where a third 98-foot glass catwalk, the Bridge of Sighs, provides spectacular ocean views.
A ship dedicated to cruising in warm seas, she expands on many of the current cruise ship trends. Amenities include an interactive water park with four slides and an adventure trail, a 394-foot long zip line and a full-size bowling alley. There are accommodations for a total of 5,179 passengers (4,140 double occupancy) with 73 percent of staterooms featuring balconies, and an enlarged MSC Yacht Club suite enclave. There are nine places to eat, including a "kids-only" buffet restaurant and five specialty restaurants.
MSC Cruises signed the contract in May 2014 for the construction of the MSC Seaside and a sister ship, the MSC Seaview due to enter service in June 2018, along with an option for a third sister ship which would be introduced in 2021.
MSC Seaside's maiden voyage commences from Trieste, Italy, on December 1, and she reaches Miami, Florida, on December 21, 2017, where an elaborate naming ceremony and fireworks display will be held as she begins cruising the Caribbean year-round from Miami. Her sister ship, MSC Seaview, will cruise the Western Mediterranean in the summer of 2018 before repositioning to Brazil for South American cruises beginning in December 2018.
It is anticipated that elements of the Seaside concept will be adapted into other new cruise ship orders, including Virgin Voyages three ships now under construction by Fincantieri and due to start entering service in 2020, and Norwegian Cruise Line's Project Leonardo, which Fincantieri is also developing for launch in 2022.