MSC Continues Introduction of Explora I, First of Its Luxury Cruise Ships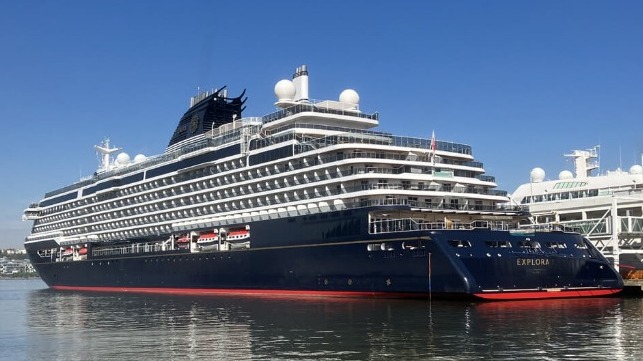 MSC is continuing the introduction of its new luxury cruise brand Explora Journeys with an event in New York City. The company has committed to an investment of more than $3.5 billion for the construction of six cruise ships as it works to build its vision of luxury cruising with a European flair.
After about two months of service, the company held a naming celebration in New York on October 12 to introduce Explora I to the travel community, media, and business partners. The celebration was capped with the vessel's official naming ceremony and renowned oceanographer and founder of non-profit Mission Blue, Dr. Sylvia Earle doing the honors. It was the second christening for the new cruise ship following a similar event with Zoe Africa Vago doing the honors on July 20 when the ship was delivered in Monfalcone, Italy.
"Today's event is a significant milestone for Explora Journeys as our first ship Explora I brings to life our vision to reshape luxury travel," said Michael Ungerer, CEO of Explora Journeys. He talks of the company's passion for the ocean and the product, which they are calling an "Ocean state of mind."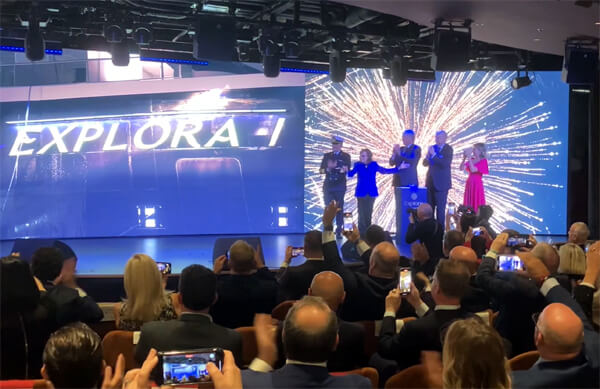 Naming ceremony introducing the cruise ship in New York City
The first two cruise ships of the fleet are each 63,900 gross tons and 813 feet in length. The ship, like other high-end luxury products, is all suites with a total of 461 rooms they call suites, penthouses, and residences, providing a total capacity of approximately 922 passengers. It offers six restaurants, four swimming pools, and an extensive spa and wellness facilities.
The line boats that they have both the largest entry-level suite with just over 300 square feet plus a 75 square foot private outdoor space and ranging up to a suite called the owner's residence with over 3,000 square feet. They highlight that the ship also has the largest outdoor space area per passenger.
"In the world of luxury travel, Explora I is a game-changer," contends Pierfrancesco Vago, Executive Chairman for the Cruise Division of MSC Group. "We are offering journeys that redefine the very essence of luxurious ocean travel."
He highlights that it is in how they present the luxury experiences aboard the ship as well as their unique approach to destinations. He says the ship will arrive later than most cruise ships and often stay overnight in port. Their goal was to create a ship that has the feel of a floating hotel and that was yacht-inspired with a relaxed atmosphere and the ability to tailor individual experiences. Ungerer calls it calming and cosmopolitan in its feel while also offering a continuity of design.
Lobby area on Explora I
The newest arrival to the luxury segment, they also highlight their goal of attracting a wider group of travelers competing with luxury destinations and resorts. They look to continue to refine the product and the onboard experiences as they continue to roll out the future ships between now and 2028.
The company's second cruise ship, Explora II is under construction and due to enter service in mid-2024 while Explora III has just begun construction after a pause to redesign the ships to adopt LNG as their primary fuel. They are also planning to use engines able to adapt to multiple fuels such as bio and synthetic gas. MSC recently confirmed the order for the fifth and sixth ship of the group, which will be equipped with hydrogen fuel cells. Due for delivery in 2027 and 2028, they expect fuel cells will have progressed to provide sufficient power to support hotel operations while in port. MSC has already begun testing a prototype fuel cell aboard its MSC World Europa introduced in late 2022.
As the company increases the number of ships, it also looks to expand its geographic reach. The Explora I will now be sailing in the Caribbean as well as an introductory visit to the U.S. West Coast and Hawaii, before returning to Europe in 2024. The Explora II will start in Europe and sail in the Middle East, while the company talks of the potential to expand to the Arabian Peninsula and the Pacific in the future.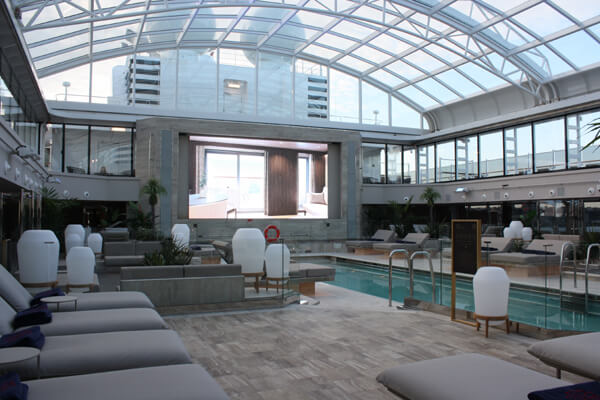 One of the four pools on the cruise ship
One of the six restaurants aboard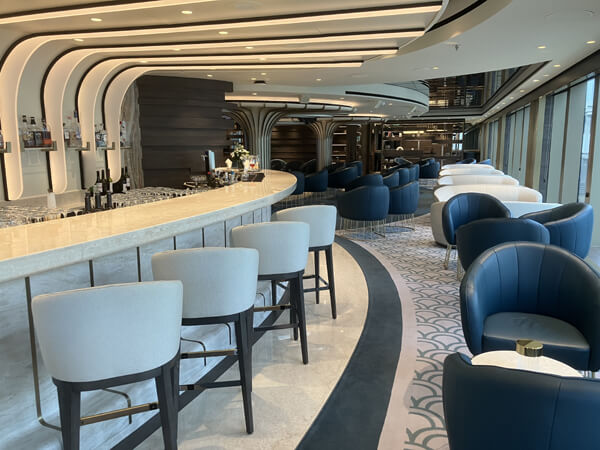 Lounge/Night Club on Explora I