MSC and Silversea Take Delivery on New Ultra-Luxury Cruise Ships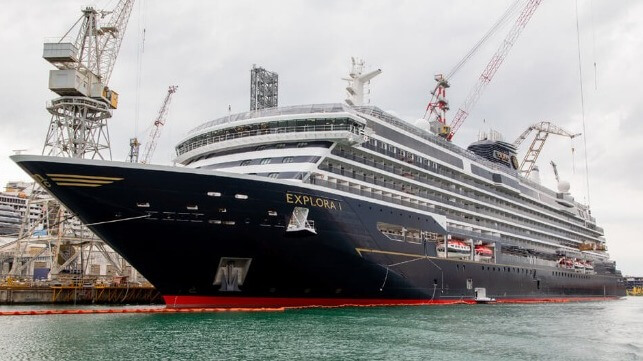 The ultra-luxury segment of the cruise industry marked two major milestones with the delivery of newbuilds which are expected to have a significant impact on the future of the industry. Royal Caribbean Group's Silversea Cruises took delivery on the Silver Nova on July 19 in the Netherlands and today, July 20, MSC Group's new luxury brand Explora Journeys took delivery on its first ship the Explora I in Italy.
Explora Journeys marks MSC's expansion into the luxury cruise segment with an investment of €2.5 billion ($2.8 billion) for six planned cruise ships due for delivery through 2028. Costing more than €500 million ($556 million) the Explora I was delivered by Fincantieri at the company's yard in Monfalcone, Italy. The ship is 63,900 gross tons and is the first to combine luxury residences with cruise suites. The are 23 residences aboard in addition to the 438 passenger cabins.
MSC announced plans for the new luxury brand initially optioning four cruise ships with Fincantieri in October 2018 and placing the order in March 2019. At 813 feet in length and with accommodations for 922 passengers, the ship has a space ratio of 69, making Explora I among the most luxurious in the industry.
Explora I was christened in Italy making MSC's entry into the luxury cruise segment (Explora Journeys)
Delivery of Explora I was delayed several times, including due to questions about fire insulation from one of the builder's suppliers. "We took the decision two weeks ago not to accept delivery of the ship as the certificate for certain fire insulation materials was no longer valid, even though this meant canceling the maiden voyage," said the cruise line. "Since then, we have been working tirelessly with Fincantieri to carry out the necessary work and tests on the materials. This required deep interventions to ensure that the ship meets all safety requirements. We are pleased that this work is now complete."
The ship will now enter service on August 1 sailing from Copenhagen on a cruise to Iceland. Construction on Explora II is underway at Fincantieri's yard in Genoa Sestri Ponente, Italy and she is due to enter service in 2024. The next two ships are being modified to operate on LNG and are expected to be delivered in 2026 and 2027. Two additional ships are planned that will also incorporate a hydrogen power system in addition to the LNG dual-fuel engines.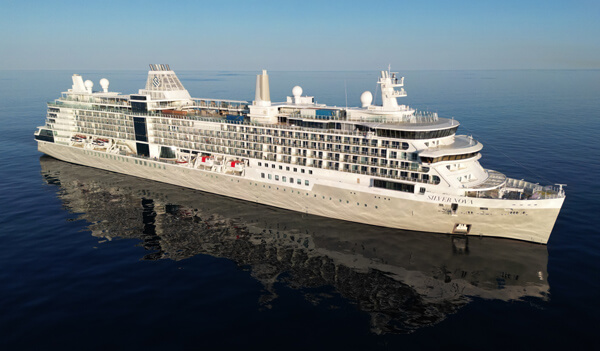 Silver Nova is Royal Caribbean Group's first LNG-fueled cruise ship (Silversea)
Royal Caribbean Group took delivery of the Silver Nova built by Meyer Werft. It is the twelfth cruise ship for the company's luxury Silversea brand and the group's first LNG-fueled ship. The Silver Nova is being promoted as the most environmentally advanced cruise ship with a waste heat recovery system, absorption chillers, a waste-to-energy system, battery power, and connections for shore power in addition to the LNG plant. Silversea says the vessel will achieve a 40 percent reduction in greenhouse gas emissions and has an Energy Efficiency Design Index rating from the IMO's system of approximately 25 percent better than the applicable requirements.
Silver Nova is the first of two luxury cruise ships being built by Meyer Werft for the line and incorporates Silversea's focus on culinary experiences and wellness. At 54,700 gross tons and a passenger capacity of 728 guests, the ship has a space ratio of 75 gross tons per passenger. Silver Nova enters service on August 14 with her maiden voyage from Venice, Italy. Her sister ship Silver Ray is due to enter service in 2024.