A large wooden fishing boat overcrowded with migrants capsized off the coast of Libya, the Italian navy said on Wednesday, with some 562 people rescued and five found dead.
Photographs show the blue fishing boat rocking violently before capsizing, sending migrants tumbling into the sea. Some then climbed onto the hull of the overturned vessel, while others swam for life boats or toward the navy ship.
Women and children were among those rescued, but no details of the migrants' nationalities have been given.
The Italian navy patrol boat Bettica saw that the vessel was in difficulty and approached it to hand out life jackets, but before it could begin a rescue the boat flipped over due to the sudden movement of the passengers.
Boat arrivals rose sharply this week amid warm weather and calm seas. Italy's coastguard said 5,600 migrants were rescued on Monday and Tuesday, and officials fear numbers will increase as conditions continue to improve.
In the past two years, more than 320,000 boat migrants have arrived on Italian shores and an estimated 7,000 died in the Mediterranean as they sought to reach Europe, according to the International Organization for Migration.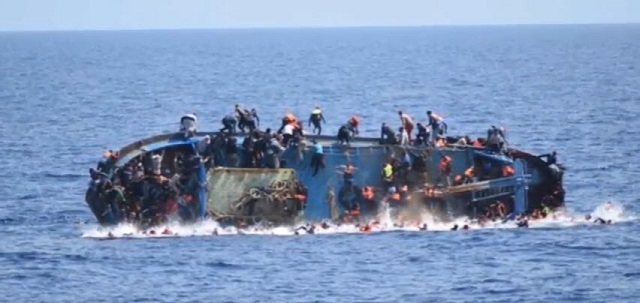 Call for Greater Coordination
Building capability rather than reacting to tragedy should be the priority for maritime search and rescue (SAR) according to the International Maritime Rescue Federation (IMRF) in a statement delivered at the World Humanitarian Summit.
The IMRF supports the UN Secretary General Ban ki-moon's push to find solutions to the widening funding gap and to move investment from external crisis intervention to providing local and national SAR response capability to manage the initial response and structure plans to escalate efforts with international support.
As IMRF CEO Bruce Reid explains: "Not all humanitarian crises can be planned and managed for, but many have common characteristics and one is the lack of sophistication in local and national SAR coordination. For the maritime interventions, we need to see countries develop greater co-ordination capability - one of the most important aims of the IMO's Global SAR plan."
At the Summit, the international charity that aims to prevent loss of life in the world's waters, called for the promotion, formation and development of maritime search and rescue services across the world. Specifically, the IMRF committed to:
• Champion the completion of the International Maritime Organization's Global Search and Rescue Plan
• Assist in building improved and fully coordinated response capability in areas of high risk; reducing the global drowning death toll of migrants, notably in the Aegean and Eastern Mediterranean, by convening sea search and rescue actors to provide vessels, training and equipment – resulting in permanently strengthened local capability
• Offer an international forum for dialogue on, and delivery of, sea rescue; inviting national and international humanitarian actors to explore innovative and higher-impact action
"Every life lost at sea is a tragedy," says Reid. "A tragedy heightened, given the long-standing, internationally agreed commitment to rescue any person in distress at sea. Irrespective of circumstance; whether a Syrian family seeking asylum, mixed migrants leaving Libyan shores or a Rohingyan refugee, every person in peril at sea should be rescued and transferred to safety.
"This is not simply a moral conviction but an internationally agreed commitment. In the past 18 months, 5,127 migrants –men, women and children – have gone missing, believed drowned, and the number of people making the Mediterranean crossing is unprecedented. Never has there been a more urgent need for the international community to cooperate. Simply, sea rescue must now be recognized, and resourced, as a priority humanitarian intervention.
"Tackling this growing problem can only be helped through close co-operation along with the right equipment and training and the completion of the International Maritime Organisation's Global Search and Rescue Plan."