More Layoffs Ahead for South Korea's Big Three Shipbuilders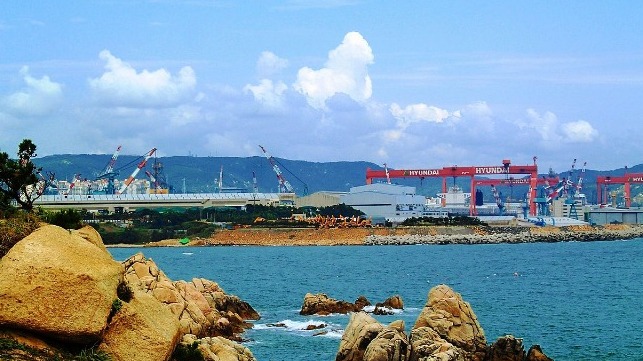 South Korea's Big Three shipbuilders will likely lay off thousands of additional employees as their orderbooks continue to shrink. After years of weak sales, Daewoo Shipbuilding and Marine Engineering, Samsung Heavy Industries and Hyundai Heavy Industries still face serious challenges from a soft market and fierce competition from Chinese shipbuilders, and they have indicated plans to reduce payroll in response.
The next round of losses could come at Hyundai Heavy Industries' offshore yard in Ulsan, which will deliver the final rig in its backlog this weekend. The facility has not received a new order in four years, and Hyundai says that it has been losing out to rig builders in China and Singapore, which have much lower labor costs.
In June, HHI reported that it was making plans to close the yard and "streamline [its] organizational resources," but industry media reports suggest that Hyundai could transfer some of its work from other facilities in order to keep it open. The plant has about 2,000 employees in total, many of whom would be transferred to other divisions if it were to close. HHI has already shuttered its Gunsan commercial shipyard and several of its drydocks due to the shipbuilding downturn.
In addition, Samsung is expected to lay off at least 1,000 workers, and the final number could be higher. It is also considering a mandatory unpaid leave plan for some of those who remain, expanding on its earlier use of a compulsory vacation plan (with minimum wage pay) at its Ningbo yard.
At DSME, management committed to reduce its headcount to 9,000 employees by the end of the year, 1,000 fewer than it had on its payroll in March. Sales were down 26 percent in the period from January through June, and the firm has said that it will make its future staffing decisions based on sales volume.