Missing Crew May be Alive in Capsized Dredger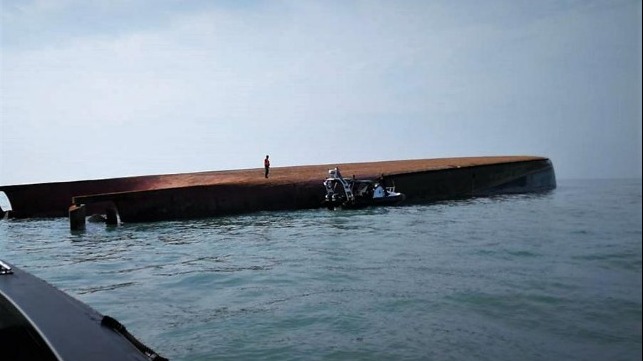 At least one man is dead and 14 missing after a dredger capsized in the Malacca Strait off Malaysia on Wednesday. Divers searching for the missing crew believe that some could still be alive inside the upturned hull as they detected a response to a knocking test.
Search and rescue authorities estimate the trapped crewmen might be able to survive for 24 to 48 hours. Royal Malaysian Navy divers are assisting in rescue operations.
There were 18 crew members on board the JBB Rong Chang 8 at the time of the incident, and the Malaysian Maritime Enforcement Agency reports three have been rescued so far. Those rescued were Wu Liangfu, Liang Rongbin and Jiang Chulin. The crew consists of one Malaysian, one Indonesian and 16 Chinese.
The JBB Rong Chang 8 capsized 8.5 nautical miles offshore. She was engaged in sand mining operations at the time, but the cause of the capsize has not yet been made clear - weather conditions were benign at the time.
The 140-meter (460-foot) hopper dredger was built in 2015 and is currently sailing the Dominican flag.