Migrant Rescue NGO May Replace its Detained Ship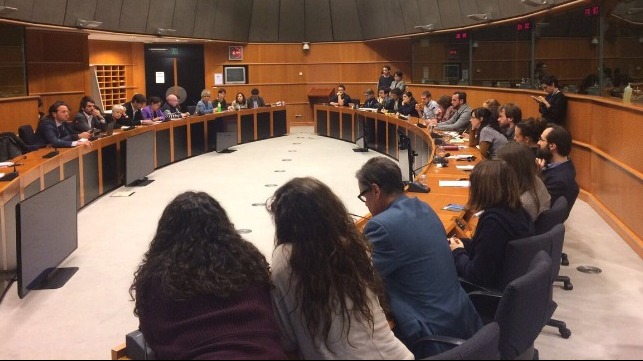 On Tuesday, a judge in Catania, Sicily determined that the migrant rescue vessel Open Arms will remain in detention while her operator faces charges of facilitating illegal immigration. However, the court dismissed related charges of "criminal association" for the act of delivering over 200 maritime migrants to Italian (rather than Libyan) shores.
The case will be transferred to the prosecutor's office in Ragusa, reports La Repubblica. The remaining charge carries a penalty of up to three years in prison and a fine of 15,000 euros.
In response to the legal action, shipowner Proactiva Open Arms is reportedly searching for another vessel to continue operations while the Open Arms remains detained in Pozzallo. The organization previously chartered a second ship, the Golfo Azzurro, and may solicit funds for a similar replacement. The group also has a smaller sailing vessel, the Astral, which has been deployed for awareness campaigns but could be retasked for rescue purposes.
Last week, Catania's public prosecutor alleged that the Spanish-flagged Open Arms "violated the law and international agreements by not handing over the migrants to Libyan authorities" on the high seas. On March 16, during a rescue operation in international waters, a Libyan Coast Guard patrol boat threatened to kill the Open Arms' crew if they did not relinquish possession of maritime migrants in distress. The Open Arms refused and headed north in search of an EU port to disembark its passengers, and after a formal request from the Spanish flag state, authorities in Catania allowed her to dock.
"Proactiva acted to save migrants' lives and then prevented them from being abused in indefinite detention [in Libya]," asserted Judith Sunderland, associate director for Europe and Central Asia director at Human Rights Watch. "It is perverse to try to characterize as criminal a refusal to hand victims to Libyan coast guard forces knowing they could face possible torture and rape in Libyan detention centers."
Proactiva Open Arms director Oscar Camps denies charges that his organization is involved in migration. "We are not dedicated to saving refugees, we only collect shipwrecked people adrift. We can't be judged for doing something like this," he said at a book signing event Tuesday. Camps maintains that Proactiva is complying with the legal obligation to render assistance to seafarers in distress, and it merely extends the same standard of care to maritime migrants as it would to the victims of any other maritime casualty.