Michigan Launches Grant Program to Promote Electric Boats on Great Lakes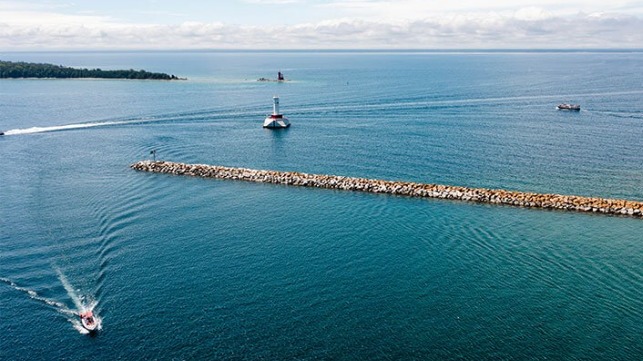 Last week, the state of Michigan announced the first winners of a new grant funding program targeted at all-electric boat operations on the Great Lakes. The new "Fresh Coast Corridor" grants will support charging infrastructure and the promotion of electric watercraft in state waters.
The grant program launched in April, with the goal of helping companies and individuals switch from diesel-powered watercraft to all-electric operations. The objective is to create a blueprint for boat electrification that "can be replicated by marinas across North America."
"The six projects funded through the first-of-its-kind Fresh Coast Maritime Challenge will not only showcase the Grand Traverse region as the epicenter for the new electric and sustainable boating industry, but further develop our Blue Economy and contribute to more significant economic growth," said Warren Call, president and CEO of Traverse Connect.
The winners include Aqua Superpower, a UK company that installs charging stations, which will receive $111,000 to install fast chargers at three additional marinas; Hercules Electric Mobility, which will receive $75,000 to support development of electric boats; solar-boat startup Lilypad Labs, which will receive $135,000 to build solar-powered watercraft for use at a resort on Lake Leelanau; and Michigan Technological University, which will conduct a study on charging needs and grid requirements.
Two out-of-state companies are also on the list: Arc, a California-based electric boat builder, which will receive $20,000 to demo electric technology at public events; and Voltaic Marine, an Oregon boatbuilder, which will receive $115,000 to demonstrate its products in Michigan and explore options for its supply chain in-state.
"The Fresh Coast Maritime Challenge, along with today's grant recipients, represent a critical investment in our water recreation infrastructure that will help to attract visitors, create jobs and preserve the natural beauty of our lakes and waterways for generations to come," said Gov. Gretchen Whitmer. "By expanding access to e-boats and charging solutions, Michigan will further foster a thriving mobility ecosystem."