Starting in April, chemical tanker operator Waterfront Shipping, will welcome seven newbuilds that can run on methanol to their fleets.
The 50,000dwt tankers will feature the first-of-its kind MAN B&W ME-LGI 2-stroke dual fuel engines that can run on methanol, fuel oil, marine diesel oil, or gas oil.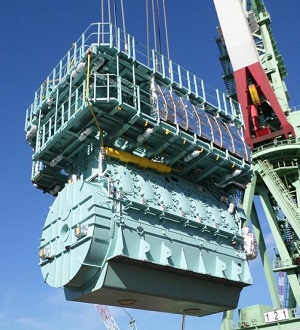 With the growing demand for cleaner marine fuel to meet environmental regulations, methanol is a promising alternative fuel for ships that can meet the industry's increasingly stringent emissions regulations. Methanol is a biodegradable, clean-burning marine fuel that reduces smog-causing emissions such as particulates, sulfur oxides and nitrogen oxides.
"Investing in methanol-based marine fuel reinforces our commitment to invest in sustainable technology that not only provides environmental benefits but also an economically viable alternative marine fuel. The cost to build new and convert existing vessels to run on methanol is significantly less than alternate fuel conversions," said Jone Hognestad, President, Waterfront Shipping.
Waterfront Shipping operates the largest methanol ocean tanker fleet in the world with its fleet comprising vessels from 3,000 to 49,000 dwt. The company will charter the seven vessels to replace older vessels and expand its fleet. Two of the vessels are owned by Westfal-Larsen Management, two vessels are jointly owned by Marinvest and Waterfront, and the remaining three vessels are owned by MOL.
The ships were built by Hyundai Mipo Dockyard and Minaminippon Shipbuilding. The first three vessels are being delivered in April, with the remaining four to be delivered by October 2016.
Forerunner
The Stena Germanica became the world's first methanol-powered ferry in March 2015. The vessel conversion project was carried out by Stena Line in collaboration with Wärtsilä, the ports of Gothenburg and Kiel as well as the world's largest producer and supplier of methanol, Methanex Corporation. The conversion was been carried out by the Remontowa shipyard in Poland.
Plentiful and Potentially Renewable
In a report published in October 2015, the Methanol Institute, states methanol is plentiful, available globally and could be 100 percent renewable. Every year over 70 million tons are produced globally. The main feed-stock in methanol production is natural gas. However, methanol can be produced from a variety of renewable feed-stocks or as an electro-fuel. This makes it an ideal pathway fuel to a sustainable future in which shipping is powered by 100 percent renewable fuels.
Methanol is very similar to marine fuels such as heavy fuel oil because it is also a liquid. This means that existing storage, distribution and bunkering infrastructure could handle methanol. Only minor modifications are required to allow for methanol being a low-flashpoint fuel.
Because methanol remains in a liquid state, infrastructure investment costs are low relative to competing alternatives such as LNG. Installation costs of a small methanol bunkering unit have been estimated at around € 400,000. A bunker vessel can be converted for approximately € 1.5 million. In contrast, an LNG terminal costs approximately € 50 million and an LNG bunker barge € 30 million. Additionally, methanol allows for small incremental investments in infrastructure capacity as the number of users grows.
The report is available here.