Malaysian Firefighters Control Container Fire on Vessel off Port Klang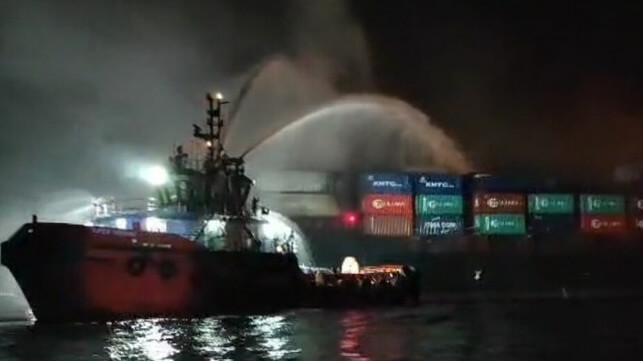 The Malaysian Maritime Enforcement Agency is reporting that it was able to contain a box fire aboard a containership at anchor off Port Klang with only minimal damage and no injury to the vessel's crew. The cleanup operation was still underway after the fire over the weekend and an investigation has started to determine the origin of the fire.
The containership KMTC Shenzhen (39,829 dwt), owned by Korea Marine Transport Co. (KMTC) operates on the company's inter-Asia routes from Korea. It departed Korea at the end of July making stops in Qingdao and Singapore in China and departing from Hong Kong on August 8 according to its AIS signal. It was in the Acheh anchorage off Port Klang, Malaysia.
Maritime officials received the fire alarm from the vessel shortly after 0100 local time on August 12 and reported that two fireboats from Malaysian Maritime along with the local fire department and marine services agency sent additional resources to the vessel. They were using the water cannons on the fire which was toward the front of the container stacks. After about two hours they reported that the fire was under control and not spreading.
Fire crews were sent aboard the ship Saturday morning and found several containers were continuing to smoke. They were working to access the boxes and put out any remaining elements of fire. A total of 111 firefighters had been dispatched in the effort as well as multiple vessels.
An initial inspection said it appears that the fire was centered on nine containers with some of the surrounding boxes also damaged at least externally by the fire, smoke, and water. They believe that a container transporting resin was leaking. The ten-year-old vessel has a capacity of 2,778 TEU but was reported with 1,189 containers when it arrived in Malaysia. The ship has a crew of 18 aboard.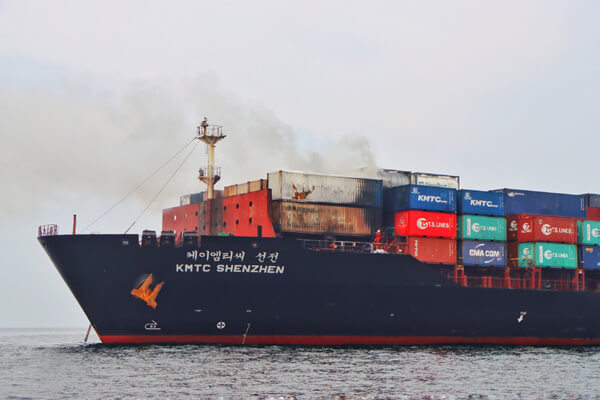 Box fires from improperly packed or labeled cargo continue to be one of the biggest concerns for the shipping industry. Last year, insurer Allianz warred that fires at sea were increasing noting that they have resulted in nearly a fifth of all the claims by value over the past five years. Fires were third overall in claims behind machinery damage and collision as the nature of the accident.
Fast action by the fire crews, and possibly a lack of more combustible materials such as chemicals or batteries, seems to have limited the damage in this fire. Malaysian Maritime reported that the manifest showed the boxes were loaded with general goods. A hazmat team was continuing to inspect the area around the fire.