Major Corporations Want Renewable Energy Made Easier in Europe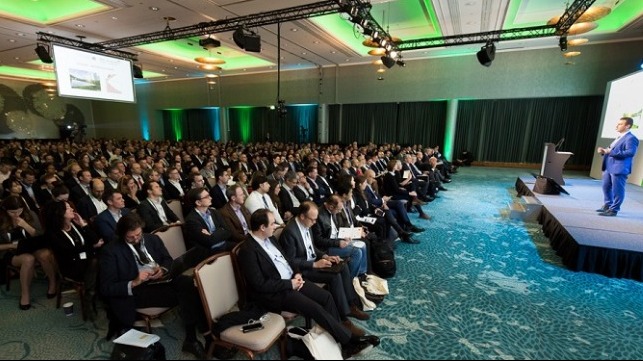 Almost 100 organizations signaled their willingness to do more on climate action and called on European governments to make it easier to source renewable energy, during an event in Amsterdam this week.
The companies signed a declaration at The RE-Source 2018 event taking place from November 20-21. The RE-Source Platform is a European alliance of stakeholders representing clean energy buyers and suppliers. It is coordinated by SolarPower Europe, WindEurope, The Climate Group and CDP (RE100) and WBCSD.
To unlock the full potential for investing directly in onsite and offsite renewable energy through power purchase agreements, the declaration calls on policymakers to remove all regulatory and administrative barriers to corporate sourcing of renewable energy, as required by the recently enacted Renewable Energy Directive, so the early success - mainly concentrated to date in the Nordics, the Netherlands and the U.K. – can be replicated more broadly.
Corporate renewable power purchase agreements worth 6GW have already been signed in Europe, representing billions of Euros of investment and thousands of jobs. Nearly 2GW of this has been contracted in 2018 alone. Commercial and industrial on-site corporate sourcing accounted for 1.7GW in 2017, and this is expected to grow considerably in the next five years.
The signatory companies, including Google, Amazon, Ikea, Iberdrola, Microsoft, Engie, E.ON, Innogy, Ørsted, Shell, Siemens Gamesa, Vattenfall and Vestas, also ask for greater certainty on the long-term ownership of Guarantees of Origin, which are needed for companies to know they are buying renewable electricity. They also called for the facilitation of a wide variety of procurement models and market products, from on and offsite solutions to multi-corporate renewable power purchase agreements and the ability to sign cross-border renewable energy transactions.
Industrial and commercial consumers account for around half of Europe's energy consumption. A survey of 1,200 corporations carried out by BayWa showed that 80 percent believe that using renewable energy gives them a competitive advantage.
Wind energy is set to overtake coal, nuclear and gas to become the E.U.'s largest power source by 2027, according to the International Energy Agency's (IEA) 2018 World Energy Outlook.
Europe leads the world in offshore wind projects with a record 3.1GW of net additional capacity installed capacity in 2017. The Global Wind Energy Council anticipates that 2019 will be another record year with the U.K. connecting 3.3 GW of new grid-connected capacity between 2018 and 2020, followed by Germany with 2.3 GW, Belgium with 1.3 GW, the Netherlands with 1.3 GW and Denmark with 1.0 GW.