Maersk Tankers to Trial Flettner Rotors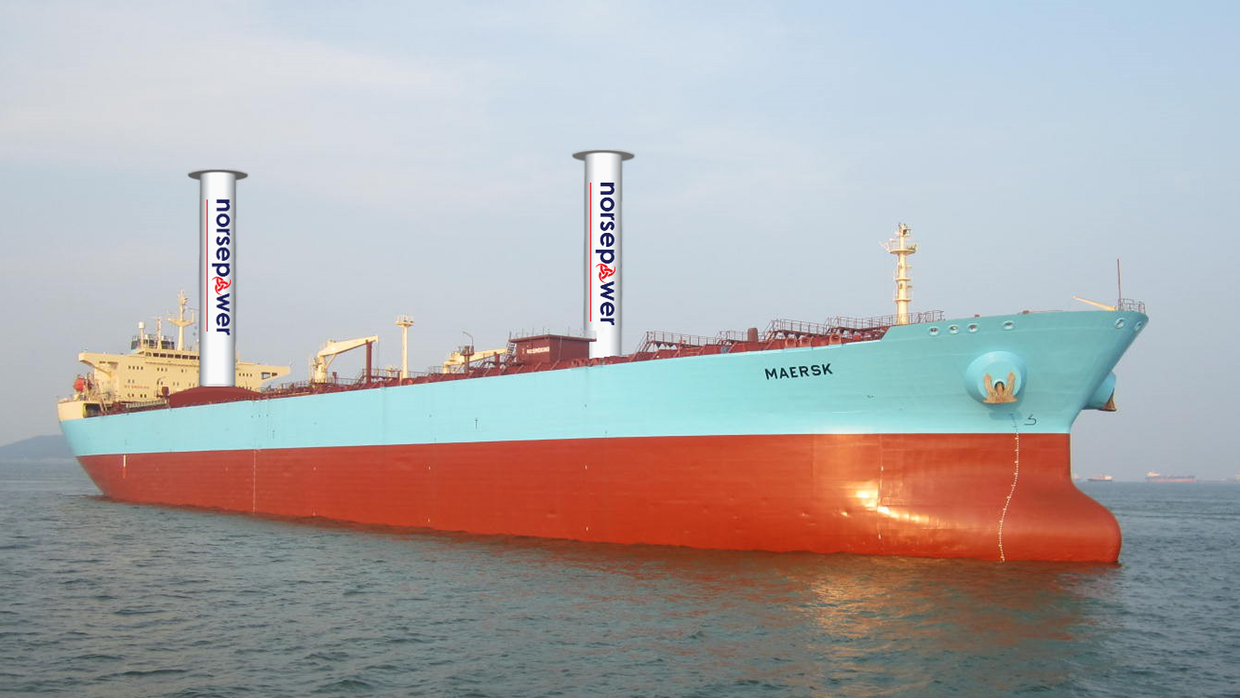 Maersk Tankers announced Tuesday that it has reached an agreement with Shell Shipping & Maritime, the UK's Energy Technologies Institute (ETI) and Norsepower Oy to install and test a set of Flettner rotors on one product tanker.
Maersk will supply the vessel, a 109,647 dwt LR2. The firm did not name the ship in its announcement, but its precise size and vessel type would match the Maersk Producer or the Maersk Penguin. The ship will be retrofitted with two of Norsepower's 100 foot tall by 15 foot wide rotor sails, which are expected to reduce average fuel consumption on typical routes by as much as ten percent. ETI will provide funding for the installation and Shell will serve as project coordinator. The consortium says that independent experts will analyze the data gathered from the project for a performance study.
"Flettner rotors have the potential to reduce ship fuel consumption substantially, especially on tankers and dry bulk carriers. It is one of the few fuel saving technologies that could offer double digit percentage improvements," said Andrew Scott, a program manager with ETI. "Demonstrating the technology in this project will make it more attractive to shipping companies and investors, and could play a significant role in reducing the fuel costs and improving the environmental impact of shipping in the future."
Norsepower's rotor sails are an updated version of the classic Flettner rotor, and they feature light but robust composite construction plus a high degree of automation. When the wind conditions are right, the vessel's bridge team can make use of the rotors and pull back on the main engine without losing speed, saving fuel while maintaining their commercial schedule. Norsepower has completed one previous installation, a set of two rotors on the ro/ro Estraden, with considerable success. NAPA and VTT Technical Research Centre of Finland confirmed fuel savings of about 2.5 percent in independent trials with only one rotor on the ro/ro's stern, and they predicted a doubling of this efficiency gain with the installation of the second unit. Jörgen Mansnerus, VP of marine management for the Estraden's operator, says that the system is effective, straightforward to install without off-hire time and "extremely easy to use in practice." Norsepower claims that it could achieve up to a 20 percent fuel efficiency improvement with multiple rotors under optimal conditions.
Norsepower has won several awards for its technology, including Fathom Marine Intelligence's Energy Efficiency Solution Award in 2015 and the Innovation of the Year Award at the Electric & Hybrid Marine Awards last year. Its research and development efforts are funded by the European Commission and the Finnish innovation fund Tekes.