Maersk Returns to Ukraine With Container-on-Barge Service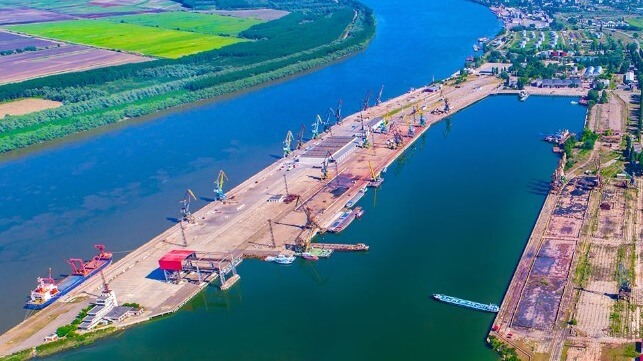 One year after the Russian invasion upended container shipments to and from Ukraine, number-two carrier Maersk Line is dipping its toe back in the water with a limited service.
Ukraine's saltwater ports remain closed to all merchant shipping due to a Russian blockade, except for a carveout for bulkers under the Black Sea Grain Initiative. However, the riverine ports on the northernmost branch of the Danube Delta (the Kiliysky or Chilia estuary) are far from the patrols of the Russian Navy. These small, shallow-draft terminals have operated with few impediments throughout the past year, providing a lifeline for Ukraine's agricultural exports.
One of these ports now handles containerized freight for a top-tier ocean carrier. Maersk announced this week that it is using the port of Reni, Ukraine for container on barge shipments, with service connecting through the Port of Constanta. The route is now fully operational via the Constanta/Danube Channel and the Black Sea, with a transit time of about 1.5 days. Maersk is accepting bookings for the service, subject to availability.
Because of the elevated risk of operating in the region, Maersk requires shippers to sign a legal "Ukraine clause" to book cargo for the route.
"Logistics operations in and around the country remain challenging, however we are pleased to inform you that Maersk is now able to offer direct bookings to Ukraine from across the world – alleviating a frequent customer pain point over the past year," the line said in a statement.
The grain trade at Reni is also looking up thanks to a multimillion-dollar investment by USAID and two Ukrainian partners, Kernel and Nibulon investments. The consortium plans to spend $44 million on upgrades at three ports in the region, including berth improvements at Reni.