Maersk Gets Short-Term Green Methanol Supply from Equinor for Feeder Ship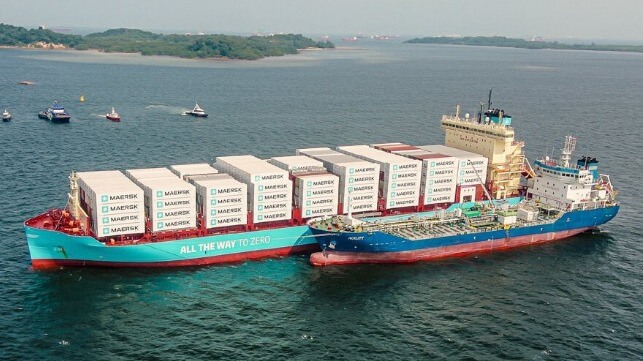 Maersk has secured a short-term supply of green methanol to help the company launch its new feeder ship which is also seen as a demonstrator for the future of net zero operations for the company and the shipping industry. Ever since Maersk ordered the first of its dual-fuel methanol containerships, the company has said the challenge would be building the infrastructure and supply of clean fuels for the ships.
Under the terms of the agreement with Equinor, which has established methanol production at its Tjeldbergodden plant in Norway will be supplying green methanol that meets Maersk's goals of low lifecycle greenhouse gas emissions of 65 to 80 reductions compared to fossil fuels or very low emissions which will be between an 80 and 95 percent reduction to fossil fuel. Equinor regards the agreement as a step in its ambitions to be a key provider of green methanol in the marine fuel segment.
The new 2,100 TEU feeder ship is the first containership to be built with dual-fuel engines to operate with methanol as its primary fuel. It was built in South Korea and recently completed a more than 11,000 nautical mile trip to Rotterdam using green fuel. After its official naming ceremony and events to mark the beginning of the new era in container shipping, the vessel will enter service on Maersk's Northern Europe loop into the Baltic Sea.
The agreement with Equinor will provide bio-methanol produced from biogas from manure, which will be bunkered in Rotterdam. According to the company, the biogas is upgraded to bio-methane and injected into the existing gas grid. The methanol is produced from the bio-methane in the grid on a mass-balance basis. The green methanol is produced in existing infrastructure and plants, using the existing European biogas certificate system, enabling a quick route to market.
The green fuel will be used during the feeder ship's initial months of operation from September 2023 and into the first half of 2024. Long term, the vessel will be fueled by e-methanol from a plant in Southern Denmark, operated by European Energy, which is expected to come on-stream in the first half of 2024.
The company aims to have a quarter of its ocean operations using green fuels by 2030. The feeder ship will provide a learning platform for the operations and operational training for future crews. Maersk has 24 additional methanol vessels on order for delivery between 2024 and 2027 and has a policy to only order new, owned vessels with a green fuel capability.
In the upcoming events next week in Copenhagen, Maersk will be highlighting its ambition to reach a target of net zero greenhouse gas emissions by 2040. The company is working to support the growth of the e-methanol supply and infrastructure with broad partnerships and investments in an emerging global network.