LPG Carrier Fire at Kerch Strait Finally Burns Out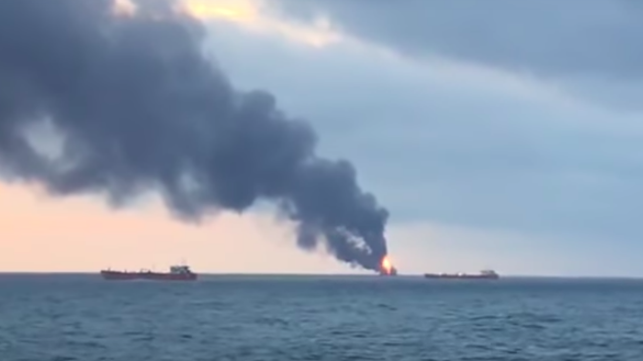 A month and a half after two LPG tankers caught fire near the Kerch Strait, the blaze has finally burnt out, according to Russia's Federal Agency for Maritime and River Transport (Rosmorrechflot).
The Turkish-operated LPG carriers Maestro and Candy caught fire during a ship-to-ship transfer operation on January 21. The Candy burned out by the end of February, but the fire on the Maestro continued until Sunday evening. The vessel's propane gas cargo was the source of the fire, and Rosmorrechflot said that the danger of an explosion made it impossible for salvors to extinguish.
The last hot spot finally burned out at about 1850 hours local time on Sunday, 44 days after the fire began. The salvage vessel Spasatel Demidov remains on scene to monitor the wreck.
Out of the 32 seafarers working aboard both vessels, only 12 were rescued, and 10 are confirmed dead. The remaining 10 individuals are unaccounted for. The list of the missing includes six Indian nationals, and India's ministry of external affairs said in an update last week that the count has not changed.
"This has been the most painful one month of our lives. The officials from his company, Nimbus Maritime Services, call us regularly. Or we call them sometimes, and the answer we get is the six sailors are still missing," said Baban Jadhav, the father of one of the missing seafarers. "We have no other option but to wait."
The Maestro and the Candy are both Tanzanian-flagged, and both are owned at the same post office box in Anguilla. AIS data confirms that both vessels were operating in the Black Sea region within the past month, but their signals were not received in the vicinity of Kerch Strait on day of the casualty.
The accident was accompanied by a measure of international intrigue. Both ships appear on the list of vessels known to the U.S. Treasury to have been involved shipping petroleum to Syria, in violation of U.S. sanctions on the Syrian government. According to Reuters, the Maestro was banned from the LPG terminal at the Azov Sea port of Temryuk due to the alleged violations, but Venice had continued access to the facility. At the time of the fire, the two LPG tankers were engaged in a ship-to-ship transfer - a loading method that is sometimes used to circumvent port access restrictions or sanctions.