LPG Carrier Released From Detention After Bunker Spill in Gibraltar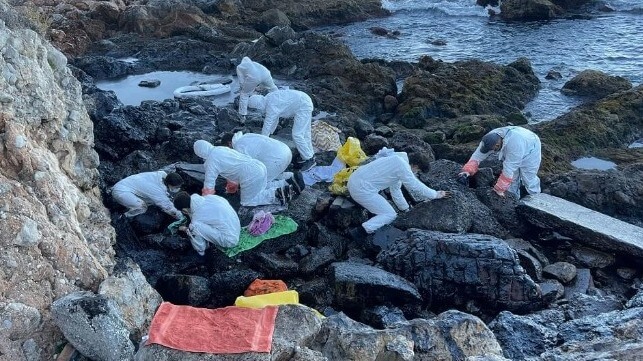 The LPG carrier Gas Venus, which spilled fuel oil into the water in a bunkering mishap in the Bay of Gibraltar last week, has been released from detention after the operator posted a surety bond of $1.9 million.
"This ensures that the costs of all oil spill response and clean-up operations are covered," Gibraltar's government said in a statement. "The vessel's departure from Gibraltar will have no effect on the ongoing investigation as all evidence from the Gas Venus has already been collected."
At about 0820 hours on August 1, the Gas Venus' tanks overflowed during bunkering at an anchorage on the south end of the bay, pushing fuel oil out of the tank vents and into the sea. Authorities estimate that the spill released as much as 2,000 liters of VLSFO.
Oil washed ashore at two locations in Rosia Bay and Camp Bay, prompting beach closures and shoreside cleanup efforts, aided by volunteers. Cleanup operations continued through Monday, and the authorities went to great effort to remove the fuel oil from the shoreline. In some areas, soiled rocks were removed from the scene for cleaning, then returned and replaced.
Port operations and bunkering have resumed in the Bay of Gibraltar. The red-flag warnings on public beaches at Little Bay and Camp Bay have been lifted, allowing swimming to resume.
Though Gas Venus has departed, her former captain remains behind. He has been arrested by the Royal Gibraltar Police on suspicion of a pollution offense and released on bail, so long as he remains within the teritory.
Gibraltar is the largest bunkering port in the Mediterranean, and sits by one of the busiest shipping lanes in the world. The port's last substantial spill occurred last year when the bulker OS 35 collided with another ship, went aground and broke up. The wreck removal was only completed last month.