London Ranked Number 1 in Global Power City Index
London has taken the top spot for the sixth consecutive year in the 2017 Global Power City Index (GPCI), which has been put together by the Mori Memorial Foundation's Institute for Urban Strategies, Japan.
The GPCI evaluates and ranks 44 of the world's major cities according to their "magnetism," which the Foundation defines as a city's comprehensive power to attract creative people and business enterprises from around the world.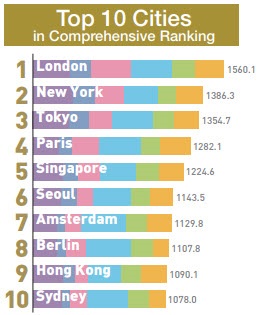 Global cities were appraised across five different categories: economy, research and development, cultural interaction, liveability, environment and accessibility.
London earned an extremely high score for 'Richness of Human Resources' and 'Ease of Doing Business' in the Economy category. The study acknowledged that there remains some uncertainty surrounding the U.K.'s exit from the European Union, but said that London's strengths are balanced across several categories, which means the city has the potential to turn challenges into opportunities and extend its lead as the world's top-ranked city in which to live and work.
Outside of macroeconomic factors, London also leads the world for attractiveness of dining options and the number of visitors from abroad, which were comprised in the 'Cultural Interaction' category of the study.
London did, however, score relatively poorly in the Liveability category, where the capital ranked 17th globally. However, it fared better than the world's other major maritime business centers in the category. Singapore ranked 28th for liveability, with New York and Hong Kong in 34th and 36th place respectively. Berlin was named the world's most liveable city, with Amsterdam coming second.
Ben Murray, manager of Maritime UK, said: "London's strengths are complimented by the unique and individual strengths of dynamic maritime clusters in Southampton, Scotland and Merseyside, which together mean that the U.K. offers the complete maritime package."
The GPCI report is available here.