Liverpool Focuses on Cruise Ship Crew Welfare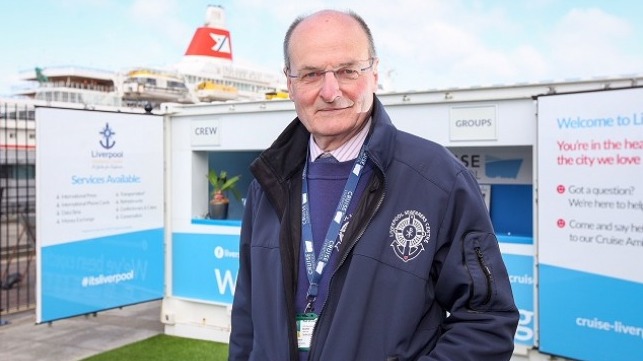 Maritime charity Liverpool Seafarers Centre has struck a deal to provide support to thousands of cruise ship crew for the third successive year at a special base at Liverpool Cruise Terminal.
CEO John Wilson said it has reached agreement with Liverpool City Council and the cruise terminal to operate a support center from a converted shipping container. The container has been donated by Maersk and is positioned on the terminal near Princes Parade.
This week, Wilson welcomed crew from the first cruise ship of the season to arrive in Liverpool, the Fred Olsen liner the MS Black Watch. The cruise season runs from April to November, and 58 ships are due in Liverpool this year each with between 120 and 1,346 crew each.
Most are only permitted off ship for up to two hours, so it is vital to have an base at the terminal itself.
"Liverpool has a reputation for being one of the friendliest and most welcoming cities in the world to seafarers," he said. "We are one of the few port cities to have a seafarer welfare center in a cruise terminal. This makes all the difference to the crew, who would otherwise struggle to find the time to travel to outreach centers."
They are bread winners and spend their lives working away from their families just to send money home, he said. "With such a tough life it is vital they have a friendly person they can turn to, to offer confidential support in case they have difficulties either on ship or at home.
"While we offer a lot of practical help such as access to WIFI and money exchange, we are also there for more serious matters," he said. "This may relate to a health issue or a major life event for them or a family member such as a birth, marriage, divorce or bereavement. We can act as a go-between and can talk to the cruise line or ship management company if there are problems to ensure the seafarer is being properly cared for.
"Last year, for example, we provided extensive support to a crew member who needed urgent hospital treatment. We arranged for the treatment to happen and organized transport and overnight accommodation at our Crosby center, and we undertook the paperwork for their travel home."
Liverpool Seafarers Centre's roots date back to the 19th century. It is a partnership between the Catholic Apostleship of the Sea (Liverpool) and the Anglican Mersey Mission to Seafarers. It is funded by donations from the churches as well as general donations and a new port levy on shipping lines.
So far, 68,000 crew have used the center's services. It relies on donations and is always on the look-out for volunteers to help making cups of tea, providing a friendly ear and driving the mini bus. Corporate supporters of LSC include: Essar's Stanlow oil refinery in Ellesmere Port, Peel Ports, the Merchant Navy Welfare Board, the Mersey River Pilots, Mersey Maritime, the Voluntary Aid Club and The Phoebe Wortley Charitable Trust.