Littoral Combat Ship Kansas City Christened
The U.S. Navy christened its newest Independence-variant littoral combat ship (LCS), the future USS Kansas City (LCS 22), on Saturday at Austal USA's yard in Mobile, Alabama.
The future USS Kansas City is the second U.S. Navy ship to honor Missouri's largest city. Originally intended to be the first Kansas City, the keel was laid for what was planned to be an Oregon City-class heavy cruiser on July 9, 1945 in the waning days of World War II. With the war's end in sight, construction was halted about a month later. The first commissioned Navy vessel named Kansas City was a Wichita-class replenishment ship commissioned June 6, 1970. The ship earned a number of unit awards throughout its life including for service in Vietnam and Operation Desert Storm. Kansas City was decommissioned in 1994.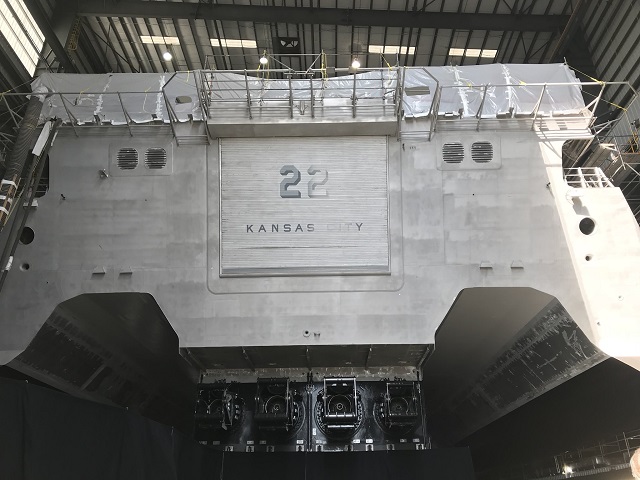 Last week, Austal USA was awarded a contract modification by the U.S. Navy to build two additional Independence-variant Littoral Combat Ships, its sixteenth and seventeenth ships in the class: LCS 32 and 34. The specific value of each contract is under the congressional cost cap of $584 million per ship.
Austal says it continues to reduce cost and deliver on schedule, handing over three Independence-variant LCS to the Navy this year, all under the congressional cost cap. "The littoral combat ship has been identified as a key component to the Navy's ability to gain sea control through distributed lethality. This, along with the highly-successful Expeditionary Fast Transport (EPF) program, positions the company well to rapidly and efficiently support the Navy's desired fleet of 355 ships with affordable solutions," said the company in a statement.
Construction of LCS 32 is scheduled to begin in 2019. Austal delivered the future USS Charleston (LCS 18) to the Navy last month and is scheduled to deliver USNS Burlington (EPF 10) before the end of the year.
LCS is a modular, reconfigurable ship, designed for surface warfare, anti-submarine warfare and mine countermeasures missions in littoral regions. The LCS class consists of two variants, the Freedom variant and the Independence variant. The Freedom variant team is led by Lockheed Martin (for the odd-numbered hulls). The Independence variant team is led by Austal USA (for LCS 6 and the subsequent even-numbered hulls).
General Characteristics (Independence variant)
Length: 421.5 feet (128.5 meters)
Height: 126.3 feet (38.5 meters)
Beam: 103.7 feet (31.6 meters)
Displacement: approximately 3,200 MT full load
Draft: 15.1 feet (4.6 meters)